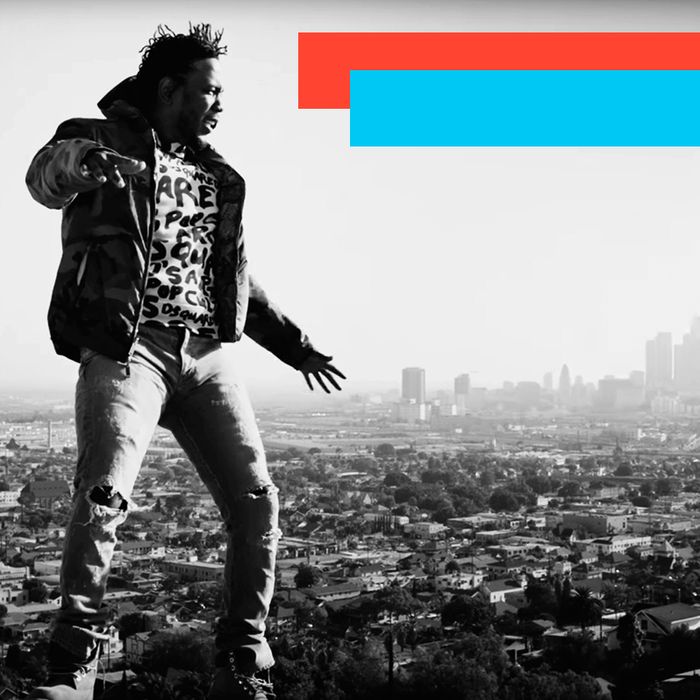 Photo-Illustration: Interscope Records
This month Vulture will be publishing our critics' year-end lists. Last week's lists included movies, albums, art, and video games. This week we started with comedy: sketches, specials, and podcasts. Today we have Margaret Lyons's top shows and Bilge Ebiri's top movies, plus music videos and memes.

1. Kendrick Lamar, "Alright"
Over the summer, Slate's Aisha Harris wondered if "Alright" could become the new Black National Anthem — and not just because the Black Lives Matter movement adopted it as an unofficial protest song. Its video contains one of the blackest moments of 2015, but it's not the one you may be thinking of, when Kendrick is gunned down by a white cop and flashes that smile, because you can kill the black body but not the black spirit. It's when Kendrick and the rest of his Black Hippy crew are kicking it in Kendrick's car, only for the camera to pan out and reveal that four white cops are carrying the car down the streets of L.A. At one point, Jay Rock pours some of his brown-bagged liquor out his window, a toast to his possible last moments of freedom before he's literally carried off to the station — or worse. It's brilliant, beautiful, black, and, now, Grammy-nominated. We gon' be alright.
2. Donnie Trumpet & the Social Experiment, "Sunday Candy"
If you ask any artist what creative freedom looks like, chances are they'd point to Chance and all of his friends' musical-theater-inspired video for "Sunday Candy." I bet if Chance had his way, this is what every high-school drama program in Chicago would be able to afford to make.
3. FKA Twigs, "M3LL155X"
How does she do it? In a very short time, FKA Twigs has become one of her generation's most formidable visual artists — this year putting out no less than six self-directed, mind-bending stunners. She's so far ahead of the game, she dropped five at once: "Figure 8," starring a surreal-looking Michèle Lamy; "I'm Your Doll," subverting rape fantasies; "In Time," channeling TLC; and "Mothercreep/Glass & Patron," paying homage to voguing and, uh, rainbow fabric alike. What a mind-fuck.
4. Rihanna, "Bitch Better Have My Money"
Rihanna has not dropped an album this year (yet!), but she has starred in her very own revenge porno. At some point, you knew RiRi would snap. But did you know it would cost Mads Mikkelsen — as in, the dude who played the dude who famously cooks human flesh as fine cuisine — all of his body parts? Next time, just Venmo Rih her coins.
5. Björk, "lionsong"

Most would point to Björk's 360-degree virtual-reality feat for the MoMA, "stonemilker," as the best of several (great) videos released by the visual genius this year. But there's something next-level mesmerizing about watching her Vulnicura cover come to life in vivid, disturbing detail, right down to her heart beating out of her latex catsuit. Her MoMA show may have been a mess, but "lionsong" spawned yet another costume worthy of permanent-collection status.

6. Sia, "Elastic Heart"
Sia's girl-dancer doppelgänger Maddie Ziegler has found herself in some intense situations in the singer's stead over the last couple years, but the apex came this year, when Ziegler emotionally destroyed an already-pretty-sensitive Shia LaBeouf (and us) inside a massive birdcage.

7. Nicki Minaj feat. Beyoncé, "Feeling Myself"

At this point, we're running out of fingers to count how many times Beyoncé and Nicki Minaj have stopped the world. There isn't a single moment of this video not fit to GIF: Coordinated one-pieces, a bug-eyed staring contest, Bey drunkenly fiending for Now & Laters, and feeding each other burgers and fries — this is next-level slayage. (Head to Tidal to watch the full thing.)
8. Courtney Barnett, "Pedestrian at Best"

What an introduction: Before this video (and the strong debut LP it preceded), Australian indie-rocker Courtney Barnett was a quick-witted favorite among the Pitchfork set. Fast-forward nearly a year, and she's up for Best New Artist at the Grammys. Keeping with the song's deadpan humor, in the video, she plays the 2013 Clown of the Year who's now a total has-been and run out of town by a fickle carnival crowd who've moved on to the 2014 Clown of the Year. Luckily, her "existential time crisis" has a somewhat satisfying ending, because underdogs FTW.
9. Drake, "Hotline Bling"
If they handed out Grammys for memes, Drake would surely sweep. But truthfully, it's the long-underrated duo of Director X and choreographer Tanisha Scott — creators of every fluorescent Sean Paul video you got busy to in the 2000s — who deserve all the accolades. Oh, and James Turrell.

10. Missy Elliott feat. Pharrell, "WTF (Where They From)"
Only the master of the music video could take a break from the medium for nearly eight years and return with a retro-future display of human disco balls, marionettes, and enough choreo-inspo for all of YouTube to last another eight years. (But please don't make us, Missy.)