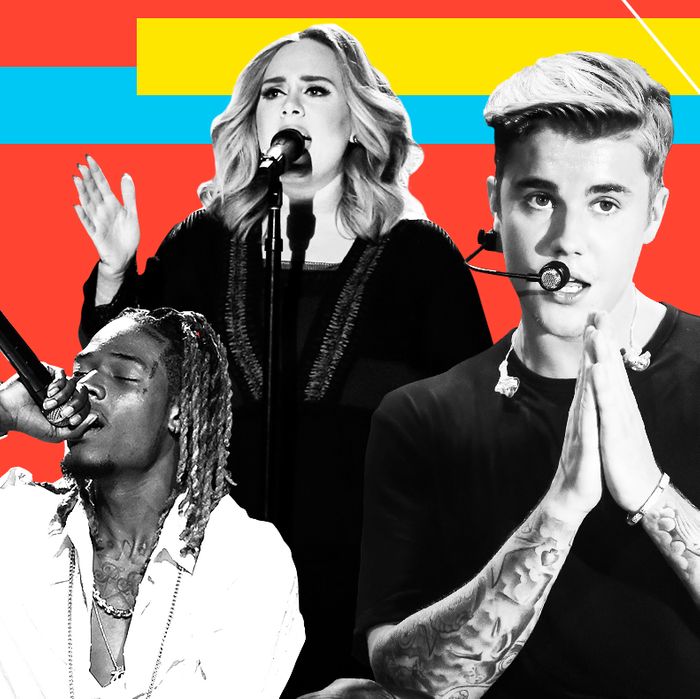 Photo-Illustration: Maya Robinson and Photos by Getty Images
This week, Vulture will be publishing our critics' year-end lists. Yesterday we posted TV and film. Today, we talk music and books.
1. Jack Ü featuring Justin Bieber, "Where Are Ü Now"
A career-resuscitating, graffiti-tagged slow jam with a drop that feels like 4 a.m. at an undersea rave. This is what it sounds like when dolphins cry.
2. Fetty Wap, "Trap Queen"
Cooking crack never sounded so romantic before Fetty Wap hey-what's-up-hello'ed out of nowhere and gifted the world with this undeniable anthem.
3. Jamie xx, "Gosh"
A hypnotically simple song that encapsulates everything great (and sorta eerie) about the producer's debut album In Colour. It's ecstasy laced with existential dread.
4. Drake, "Hotline Bling"
A beat like heaven's hold music, a hook that summons your most geriatric dance moves — for once, the ends actually justify the memes.
5. Carly Rae Jepsen, "Run Away With Me"
Reader, he called her. Definitely. And then she went and made this soaring, sophisticated, saxophone-kissed ode to the post-crush feeling.
6. Mark Ronson featuring Bruno Mars, "Uptown Funk"
"Uptown Funk" will be played at every wedding reception you attend for the rest of your life, and its opening notes will fill you with neither embarrassment nor dread. By the most reliable rubric, then, "Uptown Funk" is a great pop song.
7. Florence + the Machine, "What Kind of Man"
The punk-rock song reimagined, brilliantly, as a spell, an invocation, a hex. Florence Welch's vocals are nothing short of sorcery.
8. The Weeknd, "Can't Feel My Face"
An infectious bassline that trembles like a rubber pencil propels an ex-underground R&B lothario's triumphant transformation from neo-Prince to neo-MJ.
9. Adele, "When We Were Young"
Pop's old soul goes full Bette Midler, with a welcome dash of "Piano Man's" dive-bar pathos thrown in for good measure. Suffice to say, the next round's on her.
10. Erykah Badu, "Cel U Lar Device"
Leave it to Miss Badu to flip the script on the year's most familiar pop curio and make it sound like a transmission from another, much more chill galaxy, where the cell phone reception is blessedly shoddy.