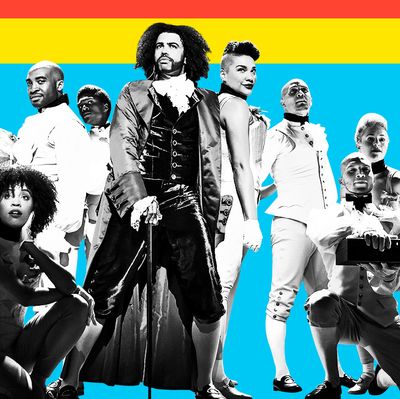 Photo-Illustration: Maya Robinson and Photo by Joan Marcus
This week Vulture will be publishing our critics' year-end lists. Monday we ran TV and movies. Tuesday covered albums, songs, and books. Today, look for theater, art, and classical performances.

1. The Humans
Roundabout Theatre Company
Great plays are usually culminating examples of existing ideas or groundbreaking examples of new things entirely. The Humans, by Stephen Karam, now at the Laura Pels and headed to Broadway, is, miraculously, both. Set squarely within the tradition of family-at-the-holidays plays, it is gripping: Karam's mastery of polyphonic, eddying conversation makes for an uncanny naturalism that the ideal cast, under Joe Mantello's direction, brings to fruition. But into this domesticity Karam has added terror. Weird noises, faulty wires, moments in which the familiar sickeningly falls away: All bring us to the brink of catastrophe, where we always teeter anyway. Rackingly funny even as it scares the bejesus out of you, The Humans is a moving demonstration of this irreducible paradox: Family love ennobles us by opening us to the pain of its dissolution.
2. Hamilton
Public Theater/Broadway
Hard to believe that the mania surrounding Lin-Manuel Miranda's hip-hop founding-father biomusical — the buzz, the Public run, the Broadway transfer, the ticket scramble, the presidential imprimatur — all happened in 2015. But some shows are so suited to their time, and so smart, that they seem to have been born full-grown. It's not a game-changer; it's just great.
3. An Octoroon
Soho Rep/Theatre for a New Audience 
I didn't catch Branden Jacobs-Jenkins's postmodern melodrama when it debuted in 2014, but the 2015 restaging was one of the funniest and most shocking plays of the year. Setting his traps with sassy slaves trading Oprah-esque uplift, he led audiences directly into the core of race confusion and then blew it up.
4. A View From the Bridge
Broadway
If Arthur Miller's Greek tragedy set in 1950s Brooklyn never seems untimely, perhaps that's because the underpinnings of justice are always under attack. Ivo van Hove's spare, muscular staging upped the ante on Miller's moral vigor, with action so precipitous that it felt like being on an elevator whose cables were cut.
5. Heisenberg
Manhattan Theatre Club
Mary-Louise Parker was once again beyond terrific as an oversharer with truthiness problems, who either does or does not fall in love with an elderly loner beautifully played by Denis Arndt. The title of Simon Stephens's two-hander suggests uncertainty: Personality is just a hunch. But if life is misapprehension, it is also, here, the occasion for kinship in suffering.
6. Whorl Inside a Loop
Second Stage Theatre
You may have thought you could guess the ending of a play about a white actress (Sherie Rene Scott) teaching "personal narrative" to a group of black prisoners. But in a slow turn that is imperceptible until it is almost complete, Scott and her co-author, Dick Scanlan, reveal a much richer, disturbing take on what constitutes rehabilitation.
7. The Christians
Playwrights Horizons
"We are no longer a congregation that believes in Hell," announces the megachurch pastor in Lucas Hnath's profound new play; naturally, all hell breaks loose. Religion emerges not as politics or psychopathology but as a necessary living argument.
8. I'm Not the Stranger You Think I Am
Theatre for One
Christine Jones's radically immersive project called for you to sit in a very red, very small booth as a short one-person play (one of seven, by Lynn Nottage, Will Eno, and others) unspooled inches from your face. The tales were sad, the actors devastating, but the experience was like getting good news from a doctor: Congratulations — you're human!
9. John
Signature Theatre Company
In Annie Baker's latest experiment in radical realism, even the kitschy bed-and-breakfast came to life in a production, starring an astonishing Georgia Engel, that took the conven­tions of breakup tales and ghost stories and proved them to be the same thing.
10. Hir
Playwrights Horizons
Genderqueer Taylor Mac went genrequeer as well, trading performance art for a near-sitcom about a woman (Kristine Nielsen) freed by a husband's stroke and a child's transition to become her monstrous self. Barely containing all its ideas, it marked the arrival of a disruptive voice in the mainstream — the stream that needs it most.


11. Honorable mentions: Other highlights of 2015
In its third season, the Encores! Off-Center series hit high after high with short-run stagings of A New Brain, The Wild Party, and Little Shop of Horrors … Carey Mulligan stunned in a slick and satisfying revival of David Hare's Skylight … The surreal backstage insanity of tech rehearsal in Anne Washburn's 10 Out of 12, at Soho Rep … a first-rate revival, coliseum-style, of Caryl Churchill's Cloud 9, at the Atlantic … Kristin Chenoweth, comic genius, in the Roundabout's revival of On the Twentieth Century … the kaleidoscopic ensemble staging of Lisa D'Amour's Airline Highway, at Manhattan Theatre Club … Mary Testa as a grieving Barbara Bush in Michael John LaChiusa's First Daughter Suite, at the Public … the eye-opening ASL translation of Spring Awakening, from Deaf West Theatre, on Broadway … 2013 Top 10 listers Fun Home and The Flick still going strong in commercial productions … Jake Gyllenhaal onstage twice … The ship in The King and I … Tonya Pinkins in Rasheeda Speaking … and Reed Birney, everywhere as always.
12. And just this week …
The Color Purple was still in previews when my Top 10 list went to press for New York — otherwise, John Doyle's stripped-down version of the 2005 musical would surely have been on it. Narrowing the palette of the original production deepened the emotion, and the cast of superb singing actors (especially Cynthia Erivo, giving a titanic performance as Celie) made a touching story into a tearjerker, and one of the best revivals ever.
*This article appears in the December 14, 2015 issue of New York Magazine.