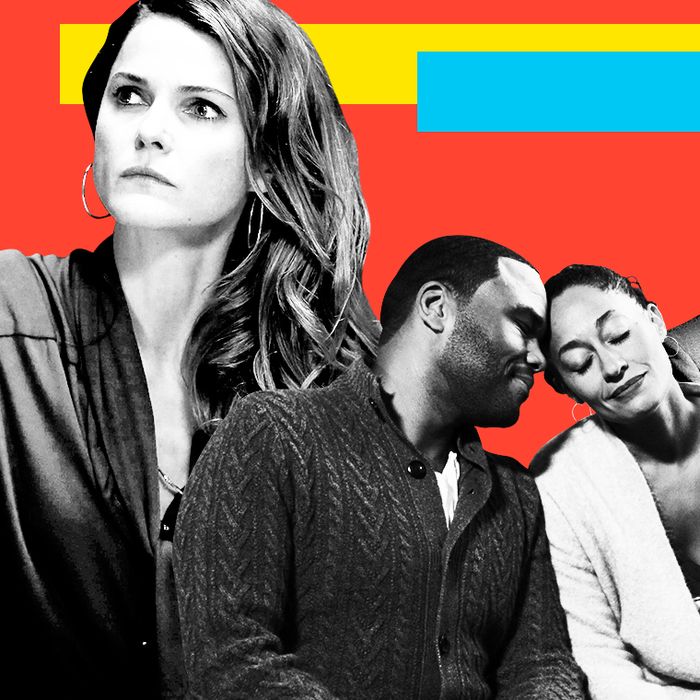 Photo-Illustration: Maya Robinson and Photos by FX, ABC and AMC
This week, Vulture will be publishing our critics' year-end lists. Today, we talk TV and movies.

1. Hannibal (NBC)
Other series were more comprehensible, and nearly all were less gore-soaked, but none was as consistently innovative and sublime as Bryan Fuller's take on Thomas Harris's fiction. This visionary drama evoked German Expressionist cinema, glossy-pretentious art-house pictures like The Hunger and Zentropa, super-sexy fanfiction, and even experimental film. Long stretches surrendered to pure sensation, cutting images together in a free-associative rather than literal way. The third season of this lamentably canceled series was really two seasons: the first following Hannibal Lecter (Mads Mikkelsen) to Florence (the basic plot of the book Hannibal) and the second revisiting the plot of Red Dragon/Manhunter (with Richard Armitage as the terrifying yet pitiable Francis Dolarhyde). The climactic showdown between Dolarhyde, Hannibal, and the doctor's nemesis/pupil/platonic love interest Will Graham (Hugh Dancy) was the most orgiastic display of choreography, music, lighting, and gore since the glory years of Miami Vice; Fuller might as well have reached through the screen and handed viewers a cigarette and a towel.
2. The Americans (FX)
This spy drama was already on track to be one of the best series of the new century, but season three sealed the deal, charting the moral and emotional spiral of the Jennings family as it drew a previously oblivious teenager into the secrets and lies of her parents.
3. Mad Men (AMC)
Its final half-season was a summation of everything Matthew Weiner's period drama ever was or wanted to be and also an exponential raising of its literary and psychological stakes. Some viewers balked at the attention paid to peripheral characters like Diana the waitress, but the democratic storytelling sensibility paid off in the final episodes, depicting the dissolution of both Don Draper and the agency he did so much to build. The finale's last five minutes were quintessential Mad Men: startling, cryptic, and poignant.
4. BoJack Horseman (Netflix)
Few shows have grown as much in season two as this animated series, a semi-satirical comedy-drama set in a world where humans and anthropomorphized animals mingle in the entertainment business. Jumping off from the more tonally varied episodes near the end of season one, the sophomore outing delved deeper into the psychology of its title character, a tortured man-child (horse-colt?) whose selfishness and self-destructive tendencies made him seem like Don Draper with hooves. It's also one of the most sheerly beautiful series around right now, every frame a joy to behold.
5. Show Me a Hero (HBO)
David Simon's adaptation of Lisa Belkin's account of a housing crisis in 1980s Yonkers, New York, was his richest work since season four of The Wire. Anchored by a career-best performance by Oscar Isaac as a crusading councilman who becomes mayor, it gloried in atmosphere as well as political process, and gave democratic weight to the lives of black citizens who stood to benefit from low income housing, not just to the white politicians fighting for or against it.
6. Rectify (Sundance TV)
Ray McKinnon's series about a death-row inmate, Daniel Holden (Aden Young), trying to adapt to life after prison was already one of the most beautiful, wrenching, and unfashionably quiet dramas on TV; it raised its game in season three by calling his story, and our sympathies, into question. The fourth season, on track for next year, could be either elating or devastating, depending on how the story plays out.
7. Jessica Jones (Netflix)
Season one of Melissa Rosenberg's series about a private eye and secret superhero is easily the best thing to have appeared under the Marvel banner, in large part because it is permitted to be its own thing, with seemingly little regard for fitting into the larger universe (though surely it'll be forced to do that eventually). The acting (by a racially diverse cast heavy on women) is superb, the neo-noir/paranoid-thriller production design is sumptuous and menacing, and the unexpectedly raw sex is as emotionally fraught as the dialogue.
8. Black-ish (ABC)
Kenya Barris's series about an upper-middle-class black family in a mostly white suburb came back for a second season carrying itself like a hybrid of Malcolm in the Middle and All in the Family, if you can imagine such a thing. Gun control, machismo, the racial divide in American Christianity, casual racism at the office, the politics of black hair, class resentment on Halloween, and other hot-button topics all got examined with so much wit and heart (and shenanigans) that you rarely stopped to realize what important work this show is doing.
9. The Leftovers (HBO)
Season two of Damon Lindelof and Tom Perrotta's religious drama took all sorts of risks: departing from Perrotta's source novel, adding new cast members, relocating much of the action to a new town, and devoting more episodes to one or two characters instead of hopscotching amid the usual ensemble. It also took more risks with form, opening with an extended flashback to prehistoric times and saddling a major character with a ghostly, accusatory figment of his guilty imagination.
10. Fargo (FX)
As if the ongoing narrative about a war between midwestern crime families in the 1970s wasn't compelling and original enough, executive producer and head writer Noah Hawley threw in a conspiracy to cover up a manslaughter, fake period snippets from the films of Ronald Reagan, appearances by Reagan himself, split-screens, '70s-era album-rock deep cuts, big sideburns, bigger lapels, and enough slyly deployed Coen-brothers references to guarantee more than one rewatch by obsessives.
***
The 10 Best TV Episodes of 2015:
1. "No Room at the Inn," The Leftovers (HBO) 
Matt Jamison and his pregnant wife, Mary, try to get back home, enduring suffering that even Job might find a bit much; the final image has talismanic power.
2. "Stingers," The Americans (FX) 
Teenage Paige finds out the truth about her parents in a series of exquisitely acted, written, and directed scenes that are all the more devastating for their economy and quiet.
3. "Digestivo," Hannibal (NBC)
The conclusion of season three's Florence arc represents Hannibal at the apex of its ornate style and pulpy audacity.
4. "Escape From L.A.," BoJack Horseman (Netflix) 
The most melancholy episode of the season, which is saying a lot; the second half felt like a missing subplot from Short Cuts.
5. "International Assassin," The Leftovers (HBO) 
One of the damnedest things you'll ever see on TV — an entire hour set in what might or might not be an alternate plane of existence.
6. "Five-O," Better Call Saul (AMC) 
"I broke my boy."
7. "Twelve Angry Men Inside Amy Schumer," Inside Amy Schumer (Comedy Central) 
A self-aware and viciously funny referendum on the men who hold referendums on whether Schumer is attractive enough.
8. "Pilot," Catastrophe (Amazon)
More happens in the first five minutes than in entire seasons of other shows.
9. "Time and Life," Mad Men (AMC)
The sad mirror of season three's exuberant "Shut the Door, Have a Seat," this one charts the beginning of the end of the agency.
10. "Rhinoceros," Fargo (FX) 
One of the most meticulously crafted hours of the past TV year, as well as one of the funniest, the most moving, and the most philosophically rich.
***
The 10 Best TV Performances of 2015:
1. Justin Theroux, The Leftovers
Theroux's face and body are so classically gorgeous that even if he were a lump being posed by directors, he's be thrilling to watch; but throughout season two of The Leftovers, he was also rigorously honest in his choices, conveying the most powerful emotions with the most economical gestures.
2. Kiernan Shipka, Mad Men
Shipka's performance as Sally Draper over seven seasons constitutes one of the greatest sustained performances ever given by a juvenile in American television (or cinema, for that matter). But in the show's final stretch, she outdid herself, changing her posture and voice to suggest the weight of the character's wisdom and responsibilities.
3. Keegan-Michael Key and Jordan Peele, Key & Peele
The duo's final season was the culmination of their greatness as physical comedians, often channeling Peter Sellers at his most demonically committed.
4. Sharon Horgan and Rob Delaney, Catastrophe
Rarely has witty comic banter felt as real as it did on this series; the characters' romantic and sexual chemistry seemed to originate at least partly in the actors' immense respect for each others' quicksilver minds.
5. The ensemble voice casts of BoJack Horseman and Bob's Burgers
It's easy to underestimate the contributions of performers who are heard but not seen; but if you turn the sound off and watch either of these classic animated series with captions, you realize that 90 percent of the laughs and poignant moments come from the actors' expertly modulated delivery.
6. Mads Mikkelsen and Hugh Dancy, Hannibal
The greatest love story of our time. Tragically so. Hilariously so. Not a moment between them was believable in any real-world sense, yet you bought every tortured, teasing thing.
7. Wendi McClendon-Covey, The Goldbergs
Not since Megan Mullally tore through Will and Grace like a tornado has one actress packed so much exuberance and charm into a high-octane supporting role on a network comedy. Could she be better? To quote Beverly Goldberg's favorite bleeped refrain, "Are you f**king kidding me?"
8. Rami Malek, Mr. Robot
More than just a great deceptively deadpan performance, Malek's work in this tech-noir drama put a mainstream face on an urban type that rarely gets cast in a lead role: the tech-savvy urban loner of color. His emotional range is exceeded only by his subtlety; you always know that the character is feeling deep and conflicted feelings, even when the brilliant burnout narration is reaching for Raymond Chandler levels of world-weariness.
9. Oscar Isaac, Show Me a Hero
The continuation of Al Pacino by other means.
10. Bokeem Woodbine, Fargo
The most beguiling grin on TV, plastered onto the face of a philosopher who just happens to be very good at killing people.