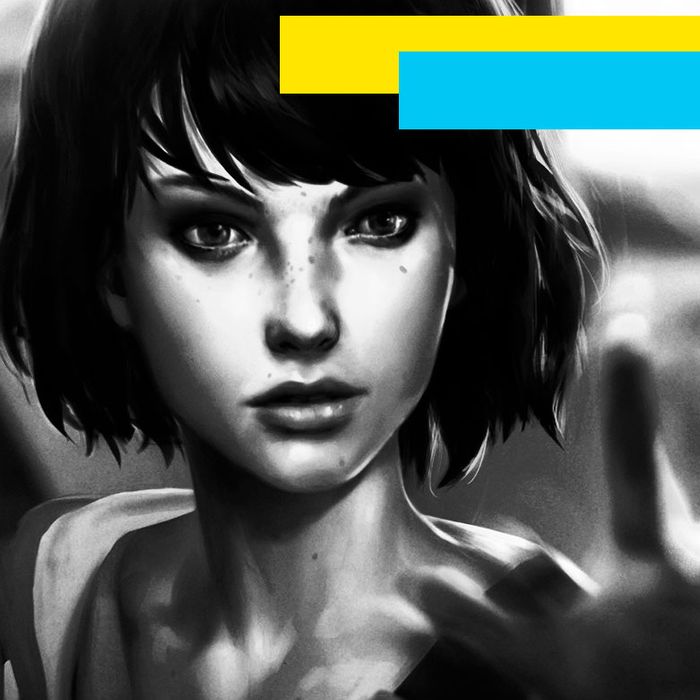 This month Vulture will be publishing our critics' year-end lists. So far we've covered TV, movies, albums, songs, books, theater, art, and classical performances. Today we add video games.

Video games have long been defined by largesse, wearing their estimated playtimes like a badge of honor. In 2015, many of those big games were quite good, but, as any dedicated binge-watcher knows, there's only so much you can handle. In a year seemingly full of new installments for old franchises and games determined to monopolize your time, the best games often proved to be the ones that were able to be picked up and played at your leisure, without the requirement that you dedicate dozens of hours to lengthy and demanding quests.
Of course, that doesn't mean you should say no to sprawling games. Read on for the titles — big and small, spanning various genres and platforms — that contributed to the weird and sometimes poignant picture that was the best of mainstream gaming in 2015.
1. Life Is Strange (PS4, Xbox One, PC)
Released in five episodes throughout the year, Life Is Strange is a game that isn't really about action but decisions. You play as the teenage Maxine Caulfield, an aspiring photographer at boarding school who one day discovers that she has the power to rewind time. This slowly spirals outward into a chain of cause and effect based on the choices you make as a player — choices that really are important, since action isn't really a part of the game as much as exploring its world and getting to know its characters.
You could fill a bucket of considerable size with the storytelling tropes Life Is Strange happily checks off, and you will, at times, wince at its writing; adding up its flaws and strengths will almost certainly, on paper, leave it wanting. Playing through it, however, is mesmerizing. It is gentle and moving and, at its best, agonizing in the choices it asks you to make. If you let it, the game will make you smile at one moment and devastate you in the next. But more important, it's a game that will compel even non-gamers to stop and wonder if perhaps this might be for them.
2. The Witcher 3: Wild Hunt (PS4, Xbox One, PC)
Vastness is considered a virtue of mainstream video games; making that vastness meaningful, however, is often less of a concern. Offering the rare combination of quality and quantity — and a staggering excess of both — is The Witcher 3, a mature fantasy role-playing game with an appropriately sweeping narrative set in a world full of small things equally worth your time and attention. For example: Gwent, the deviously simple, fully realized card game many characters play.
3. Bloodborne (PS4)
Pairing the unforgiving (yet fair!) dungeon crawling of the Dark Souls games with a Gothic nightmare city populated by Lovecraftian horrors, Bloodborne teases players with an obtuse story and challenging difficulty, daring them to overcome both. Doing so is not easy, but it's absorbing in a way few games are, as fear gives way to mastery and the setting and story are slowly revealed to those who persevere.
4. SOMA (PS4, PC)
A first-person sci-fi/horror hybrid that's equal parts terrifying and cerebral, SOMA strands you alone and defenseless in an underwater facility overrun by strange artificial life. The more you find out about it — and yourself — the more unsettling your own actions become. SOMA's big twist comes earlier than you expect, and with good reason: It wants to make sure you understands what it means. Because understanding, not knowing, is the most frightening aspect of SOMA.
5. The Room Three (iOS)
The Room series of puzzle games are among the best experiences you can have with a touch screen. Each game in the saga is essentially a series of surprisingly tactile puzzle boxes that are a delight to manipulate. By feeling your way around, you find hidden latches, panels, and keys that let you probe deeper and get to the secret at the heart of the box — and the creepy, occult-tinged story surrounding it.
6. Rocket League (PS4)
There's no real way to be eloquent about Rocket League because Rocket League is ridiculously simple. It's soccer, with cars — only the cars have jet packs and regard the laws of physics as mere suggestions. There's no story because that would only get in the way. Just rocket cars and a giant soccer ball, and anyone else who's willing to join you in this stupid fun game.
7. Ori and the Blind Forest (Xbox One)
There are a lot of games that play like Ori, but none of them look like it. Gorgeously animated, with a cold open that takes its time and gently breaks your heart like a good Pixar film, Ori elevates its familiar (though well-crafted) Metroidvania-style running, jumping, and exploring with its beautiful presentation, akin to an animated masterpiece you can play through. It is moving, but it is also fun.
8. Mortal Kombat X (PS4, Xbox One, PC)
Fighting games are a quiet genre where every once in a while, a long-running and much-loved franchise makes an appearance. This year, it was Mortal Kombat. Four years after successfully bringing the long-wayward series back to basics, Mortal Kombat X returned for more ludicrous and violent action. Few fighting games are so full of stuff — X has endless reasons to keep you fighting, the least of which is its insane, over-the-top story mode.
9. LEGO Dimensions (PS4, Xbox One, Wii U)
Toys have officially taken over kids' games. The best, most popular ones now come with toys that can be imported in and controlled as characters, brought to life with a little tech and a lot of cash. Most are great, but LEGO Dimensions is the best, with its tailor-made LEGO sets that bring everything from superheroes to Doctor Who into the familiar, brick-filled playground that have long characterized LEGO video games.
10. Fallout 4 (PS4, Xbox One, PC)
There are times when Fallout 4 doesn't seem to want to be a good game — it is clumsy and unwieldy and dense, curious in the new things it brings to a popular series and frustrating in what it chooses to streamline. But more frequent are the stories you will find and lose yourself in, the strange, sad, and scary things that the developers have hidden across post-nuclear Boston, the sort of stuff that makes for games you keep playing for a very long time.