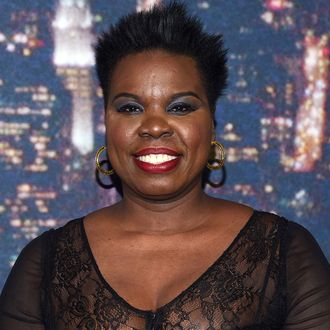 The funny lady herself.
Photo: Larry Busacca/Getty Images
Leslie Jones joined Saturday Night Live in 2014, after the show made a concerted effort to hire black female players. She first joined the show as a writer, but quickly proved her chops in front of the camera and became a featured cast member that fall. Now she has a starring role in Paul Feig's upcoming Ghostbusters reboot, and has passed yet another celebrity rite of passage: The New Yorker profile. As you might expect, Jones's humor translates in print too, and there are lots of little gems in here, from her SNL audition to the time she shut down Ann Coulter to when Jamie Foxx took her out to Fatburger after she bombed. Read on for the best bits:

Chris Rock passed her name along to Lorne Michaels.
While it's been known for a while that Chris Rock referred Leslie Jones to SNL, she was good about pushing him. After Rock saw Jones perform at the Comedy Store in 2012, she told him, "I'm not gonna really make it unless someone like you puts me on." After that, Rock apparently added her name to his "Funny People" list on his iPhone. A year later he told Lorne Michaels, "You should look at Leslie Jones. She's the funniest woman I know."
By the way, there are still some great Chris Rock quotes.
"Black women have the hardest gig in show business. You hear Jennifer Lawrence complaining about getting paid less because she's a woman — if she was black, she'd really have something to complain about," said Rock. It really makes you wish he had another press tour. 
Sorry, ladies, she's straight.
"It's too bad I'm not gay, 'cause I'd get the flyest bitches."

What was her SNL audition like?
In an effort to be as intimidating as possible, SNL bigwigs sit in the very back during auditions. Jones's was no exception — at first. As she recalled, "I got onstage, took the mike out of the stand, and went, 'Nope. Y'all are gonna have to move up to where I can see you.' And Lorne got his ass up and moved."

She has some words about the whole "black women aren't ready" thing on SNL.
During an interview on the podcast Alias Smith and LeRoi, she said that while she didn't think she would be a good fit for SNL, she knew women who were:
"I have never said I would want to be on Saturday Night Live … I don't do impressions. I don't know if I could write sketch. So, no, I would never put myself into that circle. Even if they asked me to come and audition, I'd really be, like, 'Eh, I don't know if I can do that.' But I do know women who can." Pounding a hand on the table, she added, "There's motherfuckin' three bitches I can call right now, goddammit, that will fill that spot … Just because you don't know them, that don't mean that they don't fucking exist. That's like saying Italy does not exist. Motherfucker, yes, it does. I've been there."
Speaking of, you better believe she had some words for Kenan Thompson.

"I came at him, like, 'I heard what you said, motherfucker.' He said, 'Come in, close the door, let's talk.'" Thompson told me, "What I said was that the show hadn't found the right people. That was true. And at the end of the day Leslie and Sasheer both got jobs, so I'm happy." These days, Jones said, "Kenan is possibly my best friend on the show."
Everyone knows Jones's scene was the best part of Top Five.
Chris Rock knows that the best part of Top Five is the scene where a bunch of funny black comedians just get to hang out and riff. "That was the best scene in the movie, and Leslie was the best part of it," Rock said. "Whenever I showed the movie to other directors — Ben Stiller, P. T. Anderson, Judd Apatow — their first reaction was always pointing at Leslie and going, 'Who is that?'" Apparently Judd Apatow was so impressed that he and Amy Schumer created a part specifically for Jones in Trainwreck after seeing it.
This is what happened when Ann Coulter stopped by their table with Larry Wilmore:
Jones leaned across the table and stage-whispered, "What the fuck is this frightening bitch doing here?" Coulter's face froze in a rictus, and she soon backed away from the table.
Nah, she never really watched SNL. Lorne seems cool with it.
"My sense was that, before she came here, she wasn't a regular viewer," Lorne Michaels said. Jones confirmed this. "I watched 'S.N.L.' the way most black people watched it: I watched Eddie. Then I stopped."
She opened for Jamie Foxx after college and bombed.
One of Jones's first gigs was opening for Jamie Foxx after she dropped out of college to do comedy. She bombed and the audience booed her off the stage. Afterwards, Foxx took her to a Fatburger and told her, "You could be good, but you don't have shit to talk about yet … You need to get your heart broken, have some bad jobs — live life for a while."
On her "slave draft pick" bit that inflamed the internet.
"Not only did I take something of pain and make it funny, motherfucker — it was brilliant."