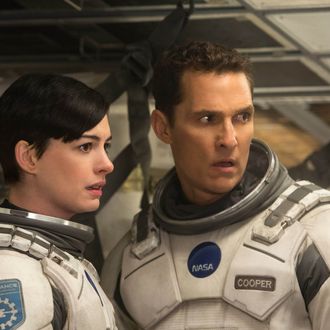 Not all right, all right, all right, at all.
Photo: Warner Bros.
Because even Torrenters fall behind on their movie viewing, 2014's Interstellar has taken the title of the most-pirated film of 2015. According to Variety, Christopher Nolan's space epic, which starred Matthew McConaughey, Anne Hathaway, and Jessica Chastain in a role she would reprise in The Martian (maybe the Torrenters wanted that and got confused?), took the title with a grand total of 46,762,310 downloads. Variety notes that this often happens as films from the previous year spend more time in circulation and thus can accumulate a greater number of downloads (though really, we should blame magic, time-traveling space aliens).
Next in line for the throne were Furious 7, Avengers: Age of Ultron, and Jurassic World. Variety also reports that the total amount of piracy is on the rise worldwide, as last year's number one most-pirated film, 2013's The Wolf of Wall Street, netted only 30-million downloads, less than this year's tenth-place film, The Secret Service, which drew 31 million.
Here is the top list of 2015's ten most-pirated films, with approximate number of downloads next to each.
1) Interstellar, 46.8 million
2) Furious 7, 44.8 million
3) Avengers: Age of Ultron, 41.6 million
4) Jurassic World, 36.9 million
5) Mad Max: Fury Road, 36.4 million
6) American Sniper, 34 million
7) Fifty Shades of Grey, 32.1 million
8) The Hobbit: Battle of the Five Armies, 31.6 million
9) Terminator: Genisys, 31 million
10) The Secret Service, 30.9 million