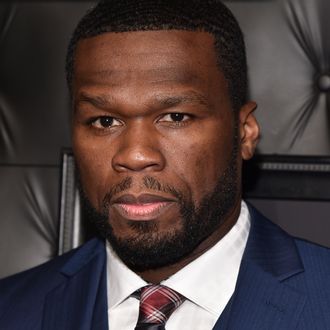 50 Cent.
Photo: Bryan Bedder/2015 Getty Images
50 Cent filed a lawsuit against Rick Ross on Wednesday in federal court, according to Billboard, claiming the Maybach Music Group founder sampled "In Da Club" without permission. The beat from 50's early hit appears on one of Ross's recent Renzel Remixes, one that touts the rapper's eighth studio album, The Black Market. 50 and his legal team essentially contend that Ross abused the track as a means of promotion, according to reports of the complaint, and that 50 had nothing to do with Renzel or Black Market.
"50 Cent's most valuable asset is the name and reputation he has painstakingly built through his Grammy-winning music, acting, and business endeavors," a legal rep for 50 told Billboard. "He chooses his projects carefully for the very purpose of protecting that name and reputation." (Ross had yet to comment.) Some have speculated the Get Rich or Die Tryin' rapper's suit is another retaliating move in the pair's long-running beef — or maybe just an attempt to keep "In Da Club" in 2003. Regardless, 50 and co. reportedly want an injunction against Ross's use of his material, as well as $2 million in damages.