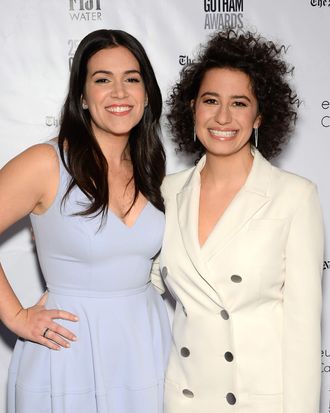 Broad City duo.
Photo: Andrew Toth/Getty Images
In years past, the IFP Gotham Awards have featured many a memorable host — some who have shocked and delighted us, and some who have bombed spectacularly — all taking advantage of the fact that the show is not televised, and therefore not censored. (Case in point: Mike Birbiglia's re-creation of David O. Russell's notorious I Heart Huckabees rant, delivered without preamble or warning.) So when we heard that Broad City's Abbi Jacobson and Ilana Glazer were going to co-host this year's event, our imaginations ran wild. Would they be a masterful hosting team-up, à la Tina Fey and Amy Poehler? Could this be the beginning of a beautiful hosting-and-roasting tradition that might someday reach the Emmys, the Globes, or even the Oscars?
But as it turns out, Jacobson and Glazer suffered last night from a combination of factors — some of which every Gotham Awards show must meet head-on. As Broad City's biggest fan Dan Rather explained to us backstage, "It's a dinner crowd eating dinner while the show is going on. People are eating. They're talking to one another. It's a difficult environment to get back. It's difficult to make humor penetrate." Rather, for his part, thought the comedians were successful in this, but from where we were sitting, the audience didn't seem to know who Jacobson and Glazer were. For shame! The comedy duo even acknowledged this in their opening and closing remarks: As Jacobson joked, "On the red carpet, everybody was getting, 'Who are you wearing?' and we were getting, 'Who are you?' That's it. End of question. 'Who are you guys?'"
At the end of the night, the comedians noted that they didn't even merit an invite to the after-party, but would be working the coat check instead. Even so, they didn't seem to mind, so long as they got to ogle their favorite stars, "Robert motherfucking Redford and Helen motherfucking Mirren." "They have a combined age of 141, and are probably the best-looking people in the entire room," Jacobson said. "I just passed Helen Mirren backstage, and it was like looking at art. People are like, 'I'd love to look like that when I'm her age.' Um, no you wouldn't. You'd love to look like her right now!" We agree.