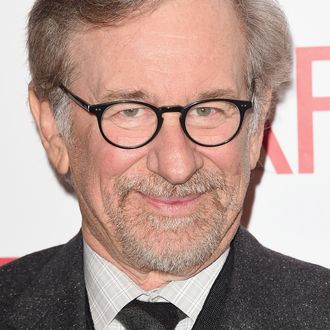 Steven Spielberg.
Photo: Jason Merritt/2015 Getty Images
CBS aired its "New Force Behind Star Wars" report Sunday night, featuring interviews with J.J. Abrams and the supportive Steven Spielberg. 60 Minutes correspondent Bill Whitaker discussed everything from music and BB-8, to fandom and expectations with the duo. Most notably, though, there was a brief snippet about stress tied to Abrams's fast-approaching judgment day.
"Oh, J.J. is terrified," Spielberg said, when asked what he thought was going on in the Episode VII helmer's head. "There's a lot of pressure on J.J. to start paying Disney back for, you know, the franchise they bought from George Lucas." Which makes sense. It was a big investment, to the tune of $4 billion, on Disney's part. "You just know that there will be people, no matter what you do, that will have issues with some aspect," Abrams responded. "You just know there is some number that is being thrown out there that will not be hit." The Force Awakens and its results finally arrive Friday.
Until then, watch the whole 60 Minutes package, which also includes an interview with Abrams's wife, below:
Or you can read the report's script, here.