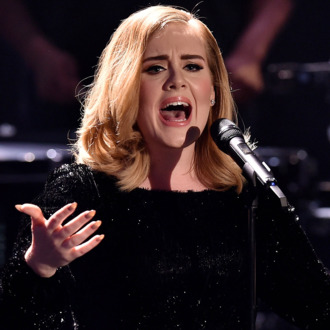 Adele.
Photo: Sascha Steinbach/Getty Images
"Hello, it's me," Adele said this morning, "I was wondering if after all this time you'd like me to perform at a series of North American arenas?" The answer was obvious, and so today the singer announced that next year, she'll be touring North America for the first time since her tour for 23 was cut short due to vocal-cord issues in 2011. The new Adele Live 2016 tour kicks off in St. Paul, Minnesota, on July 5, upon which the United States will officially retract the Declaration of Independence and become reabsorbed into the United Kingdom. Two hundred forty years, we had quite a run.
See all the tour dates below. Tickets for all dates go on sale December 17.
July 5: St Paul, MN, Xcel Energy Center
July 6: St Paul, MN, Xcel Energy Center
July 10: Chicago, IL, United Center
July 11: Chicago, IL, United Center
July 13: Chicago, IL, United Center
July 16: Denver, CO, Pepsi Center
July 17: Denver, CO, Pepsi Center
July 20: Vancouver, BC, Pepsi Live at Rogers Arena
July 21: Vancouver, BC, Pepsi Live at Rogers Arena
July 25: Seattle, WA, KeyArena
July 26: Seattle, WA, KeyArena
July 30: San Jose, CA, SAP Center at San Jose
July 31: San Jose, CA, SAP Center at San Jose
August 2: Oakland, CA, Oracle Arena
August 5: Los Angeles, CA, Staples Center
August 6: Los Angeles, CA, Staples Center
August 9: Los Angeles, CA, Staples Center
August 10: Los Angeles, CA, Staples Center
August 12: Los Angeles, CA, Staples Center
August 13: Los Angeles, CA, Staples Center
August 16: Phoenix, AZ, Talking Stick Resort Arena
August 17: Phoenix, AZ, Talking Stick Resort Arena
September 6: Auburn Hills, MI, The Palace of Auburn Hills
September 7: Auburn Hills, MI, The Palace of Auburn Hills
September 9: Philadelphia, PA, Wells Fargo Center
September 10: Philadelphia, PA, Wells Fargo Center
September 14: Boston, MA, TD Garden
September 15: Boston, MA, TD Garden
September 19: New York, NY, Madison Square Garden
September 20: New York, NY, Madison Square Garden
September 22: New York, NY, Madison Square Garden
September 23: New York, NY, Madison Square Garden
September 25: New York, NY, Madison Square Garden
September 26: New York, NY, Madison Square Garden
September 30: Montreal, QC, Bell Centre
October 1: Montreal, QC, Bell Centre
October 3: Toronto, ON, Air Canada Centre
October 4: Toronto, ON, Air Canada Centre
October 6: Toronto, ON, Air Canada Centre
October 7: Toronto, ON, Air Canada Centre
October 10: Washington, D.C., Verizon Center
October 11: Washington, D.C., Verizon Center
October 15: Nashville, TN, Bridgestone Arena
October 16: Nashville, TN, Bridgestone Arena
October 25: Miami, FL, AmericanAirlines Arena
October 26: Miami, FL, AmericanAirlines Arena
October 28: Atlanta, GA, Philips Arena
October 29: Atlanta, GA, Philips Arena
November 1: Dallas, TX, American Airlines Center
November 2: Dallas, TX, American Airlines Center
November 4: Austin, TX, Frank Erwin Center
November 5: Austin, TX, Frank Erwin Center
November 8: Houston, TX, Toyota Center
November 9: Houston, TX, Toyota Center
November 14: Mexico City, DF Palacio de los Deportes
November 15: Mexico City, DF Palacio de los Deportes