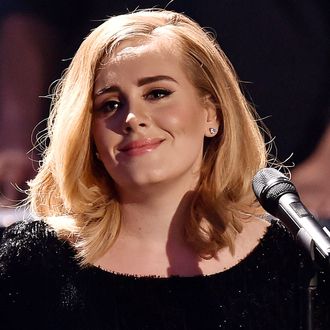 (Not) rolling in the stream.
Photo: Sascha Steinbach/Getty Images
When Adele's 25 dropped last month with astronomically high fanfare, it was also made clear that the album wouldn't be available on popular streaming services, such as Spotify and Apple Music, for an unspecified amount of time — much to the chagrin of Adele enthusiasts everywhere. Now, speaking to Time for their latest cover story, the star gave some insight into her decision to eschew those platforms and how she personally views the current streaming culture. Simply, she's not too fond of it.
"I don't use streaming," she says. "I buy my music. I download it, and I buy a physical [copy] just to make up for the fact that someone else somewhere isn't. It's a bit disposable, streaming." To stream or not to stream really was the pivotal question for her while making 25, and she received pressure from industry insiders — who encompassed both viewpoints — to firmly choose a stance. "I know that streaming music is the future, but it's not the only way to consume music," she says, adding that "music should be an event."
When a comparison was drawn to Taylor Swift removing her entire music catalogue from Spotify in 2014 (and her subsequent open letter demanding fair compensation for artists), Adele was quick to praise the decision. "It was amazing," she says. "I love her — how powerful she is. We'll get lumped together now because of it, but I think we would both feel the ability to say yes or no to things even if we weren't successful."
In the end, though, Adele can choose to do whatever she wants. And she knows it! "Call me old-fashioned, call me ignorant, but whatever," she says. "Take it or leave it."