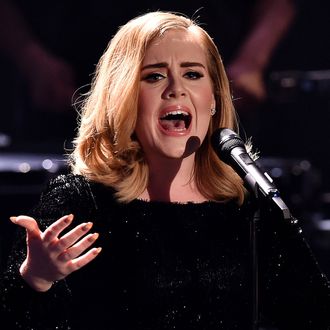 No one's having a happier Christmas than Adele.
Photo: Sascha Steinbach/Getty Images
Not content with having two record million-selling weeks for one album, Adele is about to have a third: Billboard projects that 25 will sell yet another million this week, the first album ever to do so. That's of course thanks to all the lazy Christmas shoppers who've been ransacking their local Target in search of a present for that one relative they kinda hate, but who always gets them a gift card, so they have to return the favor. Just last week, Adele sold a cool 825,000 albums for her fourth straight week at No. 1 on the Billboard 200 (not to mention eight straight weeks at No. 1 on the Hot 100 for "Hello"), and she's expected to top the charts again with another million-plus set.
That'll put 25 well over the 6 million mark in the U.S., and likely close to 7 million (for perspective, Taylor Swift's Fearless, released in 2008, just sold its 7 millionth copy last week). It's now become the best-selling album in this country since, well, Adele's other world-stopping album, 21 — giving her the two biggest albums of the decade. In fact, her entire catalogue (three albums and a couple iTunes concert specials) has now surpassed 20 million, which means Adele is having a much better Christmas than you ever will. Cheers!