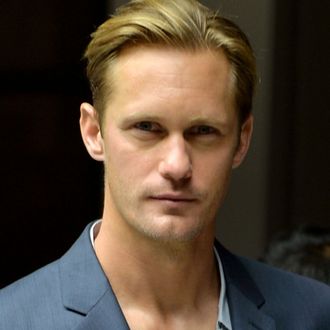 Alexander Skarsgard.
Photo: Andrew H. Walker/2013 Getty Images
USA Today has helped reveal the first official pics of the Alexander Skarsgård–starring Tarzan reboot, as well as the fact the David Yates–helmed film will kick the legend somewhat into reverse. Rather than retell Tarzan's savage-to-civilized origin story, the flick reportedly starts with the hero removed from his early wild life, first basking in Victorian London with his wife and then returning to the Congo to help save his home as drama unfurls. "It's almost the opposite of the classic tale, where it's about taming the beast," Skarsgård explained to the paper. "This is about a man who's holding back, and slowly as you peel off the layers, he reverts back to a more animalistic state and lets that side of his personality out." As previously noted, Margot Robbie plays Jane; Samuel L. Jackson, Christoph Waltz, and Djimon Hounsou round out more of the cast.
Below, you can see a sneak peek of Jane and Tarzan, both either deep in thought or jungle sleepwalking:
And you can see them again, in livelier action, on July 1. For more of what to expect then, head here.