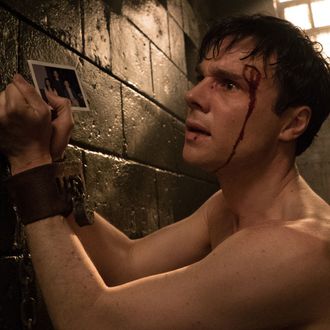 Imagine an alternate reality where this photo caption is better.
Photo: Liane Hentscher/Amazon
Amazon is giving a second season to The Man in the High Castle, its drama set in an alternate reality 20 years after America lost World War II, but imagine an alternate reality where it doesn't. (What would this post be about then? Would it even exist?) The series, which premiered on November 20, is one of Amazon's best-reviewed dramas, and the site's second to receive the green light for a second season (in an alternate reality, Bosch is still the only Amazon drama to be renewed — how quaint!). Based on the novel by Philip K. Dick and written by Frank Spotnitz, The Man in the High Castle follows a group of Americans, Nazis, and Japanese officials entangled in a plot to retrieve a collection of film reels that depict additional alternate realities. The first season ended with a big cliff-hanger, which, in an alternate reality, we would never have had the chance to see through, but now we can. What a world!