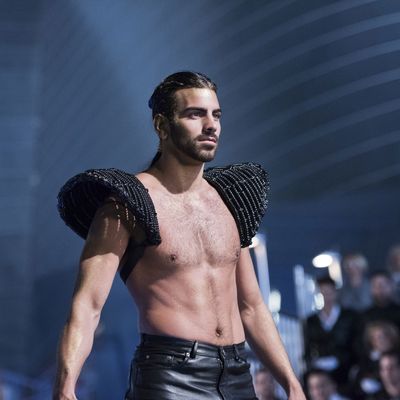 Cycle 22 winner Nyle DiMarco.
Photo: Eddy Chen/The CW
On Friday night, America's Next Top Model aired its cycle 22 finale, which doubled as a series finale. The episode was stacked with what was probably its strongest final four in years: rocker chick Mikey Heverly, girl-next-door Lacey Rogers, daughter of Ghanaian diplomat Mame Adjei, and Nyle DiMarco, the show's first-ever deaf contestant, who ended up being crowned the winner. He cried; I cried. His tearful (and also deaf) mom pulled a reverse of Maury's "baby mama finding out her boyfriend is not the father" — she ran out from the ANTM greenroom, down the hallway, and onto the set to embrace her son while a whimper of confetti showered the two. This ho-hum celebration from the show's producers actually seems fitting considering the creator, host, and former supermodel Tyra Banks nonchalantly announced the series was ending on Twitter two months ago. This announcement surprised no one, of course. After all, the show had been on the air for 22 seasons. And like many who had been watching from the beginning, I was mostly happy it was calling it quits, as it seemed the series had been lumbering to a slow death for quite some time. Yet there was a part of me that was also melancholy. I was going to miss the reality-TV drama, the Tyra-isms ("smize," "booty tooch," and "hoe, but make it fashion" are some of my favorites), the photo shoots, the CoverGirl commercial shoots and prizes, and the insider look at the modeling industry. And that's when it dawned on me: The America's Next Top Model franchise (which includes more than 40 international spinoffs) is one of the more important things to happen to the modeling industry in the past 15 years. Despite the glaring issue that ANTM never produced a bona fide supermodel, this is not the craziest theory. Hear me out.
Back in 2003, when America's Next Top Model premiered on the now-defunct UPN network, the modeling industry, like it always has and always will, was chugging along. We had the Giseles, the Adriana Limas, the Marisa Millers, all of whom were (and are) steadily working and are without a doubt still some of the top supermodels today. However, no mater how buoyant the careers of these women and other ladies of their ilk are, the fact remains that the heyday for models was in the '80s and '90s. The '90s, especially, were a time when models were landing giant cosmetics contracts, starring in commercials that would subsequently be covered on entertainment news shows like Entertainment Tonight, and ending up many magazines covers. I mean, there was a press conference to unveil that Cindy Crawford (posing as George Washington) was going to grace the inaugural issue of JFK Jr.'s magazine George.
But more than that, models in the '90s were ever present in popular culture. They were starring in movies (Cindy Crawford in Fair Game; Tyra Banks in Higher Learning), guests on late-night shows (both Claudia Schiffer and Heidi Klum had breakout moments when they appeared on Late Show With David Letterman), and, moreover, they became cultural icons. Who can forget the groundbreaking video for George Michael's "Freedom! '90"? Michael was sick of the fame, so he refused to do any more video and photo shoots to promote his music. After being pressured by his record label, he agreed to have a video for his song, as long as he didn't have to appear in it. He was inspired by the January 1990 British Vogue cover and requested that those five women (Naomi Campbell, Linda Evangelista, Tatjana Patitz, Christy Turlington, and Cindy Crawford) appear in the music video and lip-synch his lyrics:
The video further put the models in rarefied air. But as time passed, the late '90s and early aughts brought a change. No longer were models being used to sell products and move magazine covers. Companies and executives realized that instead of grooming a model to potentially become the next big thing in order to sell their wares, they could enlist already-well-known and popular actresses, singers, and reality-TV stars to do the same job. When that happened, it made it more difficult for models to break out. Enter America's Next Top Model in 2003.
On its surface ANTM was a show aimed at teenagers that emphasized drama and Banks's larger-than-life personality, but it was more than that. At its peak, it was hugely popular, putting a light back on models and arguing for their necessity. For many of the cycles, one of the major prizes was CoverGirl allowing the winner to have his or her own CoverGirl campaign and commercial. Before this prize was created, CoverGirl was one of the companies using A-list actresses to market their wares. But by giving one of the ANTM models a shot at the job, it opened that door back up again.
And ANTM didn't just bring more attention to models — it also opened people's minds as to what kind of people could be considered models. The term "plus-size" model entered the national lexicon in a big way. Banks has been vocal throughout her career about how when she hit her late teens/early 20s, the industry told her she was too big to do high fashion. While she was never quite "plus-size," Banks had body-ody-ody for days and was not going to going to sacrifice it or starve herself. So she switched gears, embraced her curves, and made modeling for Victoria's Secret and Sports Illustrated — landing the cover twice, including becoming the first (and sadly the only) African-American model to land a solo cover for the magazine —  her bread and butter. When she pitched the show, she said she wanted to feature plus-size models (Toccara Jones finished in seventh place on cycle three; Whitney Thompson won cycle ten) on the series. Not everyone was happy about it. Janice Dickinson — one of the world's first supermodels and show's original judges — and Banks constantly butted heads because Dickinson didn't think curvier women had a place in the competition. Banks vehemently disagreed. ANTM regularly featured women who weren't all size zeroes and twos. There's no denying that seeing non-very-skinny women model on a TV show every week helped open doors for plus-size women. Up until that point, Emme was the only example of a voluptuous woman with a supermodel career.
ANTM also introduced a lot of people to the idea of a transgender model. Isis King competed on cycles 11 and 18 of the show, and while she is not a world-famous supermodel, she is a working one, and she became, at the time, one of the most visible transpeople on television.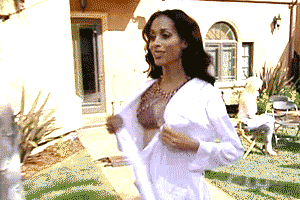 King was in the process of transitioning on the show, so we got a behind-the-scenes look at her taking hormone injections and the subsequent nausea. Being on a reality show while going through something so powerful can be invasive, but King seemed to take it in stride and used it as a teachable moment for many people, myself included, who did not know much about the trans experience. And then there is the aforementioned Nyle DiMarco, who won this last cycle. He was the first deaf contestant the show ever had and wanted to use ANTM as a platform to show that deaf people can be very successful in this industry. While that remains to be seen for DiMarco, his presence on the show was nonetheless important.
So, as we close the book on one of the biggest modeling shows to ever hit the U.S. (mind you, the 40-odd international versions of the show are still going strong), let's pour one out for Banks, who helped revive and reshape the modeling industry with her beauty, brains, and a penchant for drama. Tyra, I'm going to miss you and your shenanigans on my TV screen, but thank God for your Instagram account.