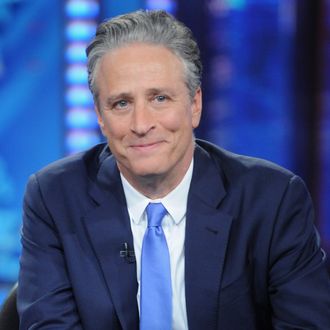 Look at that well-fed face.
Photo: Brad Barket/2015 Getty Images
Of his many corporate feuds, one of Jon Stewart's most famous was with Arby's, who made a compilation video of all the former Daily Show's host's Arby's insults at the end of his run. But as with many feud that take place within the fabric of capitalism — such as, say, between Taylor Swift and Nicki Minaj — the truth is more mutually beneficial than fiction. In an interview with the Associated Press, Arby's chief marking officer Rob Lynch revealed that, when Stewart first insulted them, the sandwich purveyor decided to roll with it:
Q: Many New Yorkers only know about Arby's as the chain Jon Stewart mocked on The Daily Show. What was your reaction when you first saw it?

A: As the guy who's supposed to protect and grow the brand, I was like (makes shocked face), What happened? Did he have a bad experience?

Q: How did you decide to react?

A: We had to make a tough decision. Do we send him a letter saying, "We can't believe you're doing this — we use the highest quality ingredients." Or do we play along?

So we sent him and his crew lunch, and they sent us back a letter saying, "Usually when we make fun of people, they send us nasty letters. You sent us lunch. That's awesome."

We were like, "Yes! They loved the food, they like us. That was the perfect decision."

And then it happened again. And it happened again. And again.

Every time, we sent them lunch. Sometimes it was easier, and sometimes it was harder.

Q: When was it harder?

A: When he said, "Arby's, it's like your stomach got kicked in the balls." I mean, that was kind of hard.
The Supreme Court has ruled that corporations are people. Arby's wants you to know they have feelings, too. But lest you were feeling too bad for an imagined corporate entity, Lynch also gave The Daily Show a lot of credit for helping Arby's increase its name recognition, saying its customers skew younger than just three years ago.
Ah, the beefy taste of capitalism.