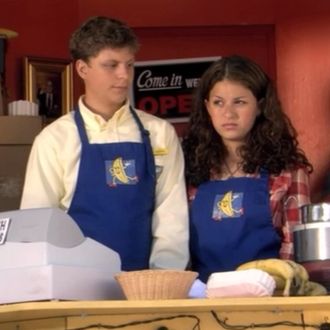 There's always money in the banana stand.
Photo: FOX
Last we checked in with the Bluths, producer Brian Grazer said that a fifth season of Arrested Development was coming in 2016. "Netflix is determined to do more episodes, so we're going to do more episodes," said back in June. That said, star Jason Bateman told Marc Maron, "There is no plan. There are those remaining two acts, but I don't know what format they will take, or if they will ever happen." So what's the answer? During a press tour for his latest film, In the Heart of the Sea, Ron Howard said on Good Morning America: "Well, Mitch Hurwitz, the creator of the show, is working with writers now … Netflix is behind it, 20th Century Fox is behind it."
GMA anchor Amy Robach replied, "That sounds like a yes!" To which Howard said: "It's hopeful. What has happened is that the cast has become so freakin' in-demand and busy. Everyone wants to do it. Fans want it. I would be saddened if we didn't achieve it. I'm the announcer and the narrator, and I have to get back to that microphone." Indeed! Jeffrey Tambor is doing his award-winning work on Transparent, Portia de Rossi stars on Scandal, Tony Hale is on Veep, Bateman and Will Arnett are making movies, and the list goes on. There's still no official word from Netflix, but everything is going to be all right! It's going to be all right!