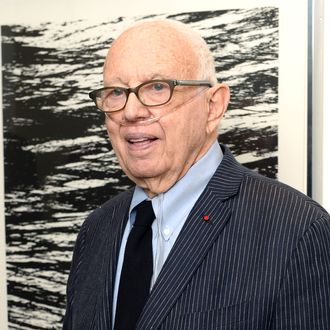 Kelly in 2013.
Photo: Andrew H. Walker/2013 Getty Images
Ellsworth Kelly, the artist who pioneered a uniquely American study of abstraction, form, and color, has died at 92, according to the New York Times. His death was announced by his dealer, Matthew Marks of the Matthew Marks Gallery in Manhattan. Born on May 31, 1923, in Newburgh, New York, Kelly fought in World War II, worked in Paris, and later, in New York, before he left the city in 1970 for Spencertown, where he lived and worked with his partner, the photographer Jack Shear.
The son of an insurance salesman, Kelly grew up in New Jersey. At 19, he was drafted into the Army. During the war, Kelly served in the 23rd Headquarters Special Troops, a camouflage unit whose mission was classified until 1996. After an honorable discharge in 1945, he enrolled at the School of the Museum of Fine Arts, Boston, with the help of the GI Bill. In 1948, he returned to Paris, which he had traveled through during the war, and there he began to synthesize influences as disparate as Braque, Picasso, Byzantine mosaics, and Romanesque architecture.
Kelly returned to the United States in 1954 and had his first solo show in 1956. He developed a style dubbed by art historian Jules Langsner as "Hard-edge painting," which emphasized the interplay of rigid, sometimes monumental forms, single objects or even-shaped panels, and bright colors. His work during this era, as always, defied easy categorization, indebted to European and American influences, but with a rigor and sense of play all its own. Kelly continued working throughout the rest of his life, producing everything from paintings to sculpture and even tattoos. In a 2012 interview, Kelly told W Magazine, "I always say I'm painting for the dead artists I like … The ones I think would understand what I'm doing. You put your paintings up against Matisse and Picasso and wonder, Am I producing art that is nourished by the past? I wouldn't be doing this if I hadn't looked at a lot of art. This is the mystery of it all: You have to look at art for a long time before you begin to understand."