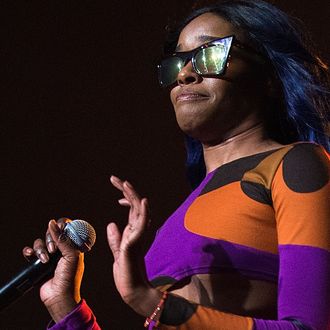 Azealia Banks.
Photo: Cassandra Hannagan/2015 Getty Images
Azealia Banks was arrested early Wednesday morning in New York for allegedly attacking club bouncers and biting one "in the boob," Page Six reports. The altercation occurred around 12:30 a.m., at Meatpacking's Up&Down, where the 24-year-old rapper became upset after almost missing a private event. Page Six's sources say that Banks tried to get into a club owner's birthday without the required entry stamp and that bouncers, evidently unfamiliar with the artist's "212" and Delta videos, attempted to turn her away. Although Banks was ultimately allowed in, she reportedly went off on the guards and let them know who she is and that she's on Rihanna's new album. (A genius leverage line pretty much anyone can use now, until Rihanna releases a tracklist.)
Page Six adds that when security came for her, Banks allegedly spit in a female bouncer's face and bit her "in the breast, almost breaking her shirt," with a chomp that "caused swelling and redness." Once she was kicked out of the club, Banks reportedly threatened to call the cops, punched the female bouncer, and was finally taken in. Authorities booked Banks for a third-degree assault misdemeanor and held her until Wednesday night. Other details were not immediately released, but hey, Banks may or may not be on Anti.