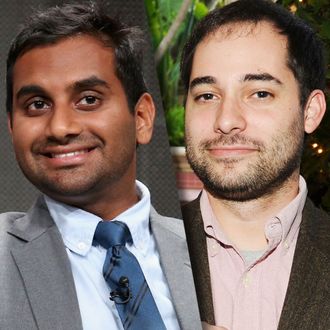 Ansari and Wittels.
Photo: Getty Images
Earlier this year, comedian and Parks and Recreation writer Harris Wittels died of a drug overdose. The comedy world took the death hard, especially Aziz Ansari, who worked with Wittels on Parks and Rec and Master of None and penned an earlier remembrance for him on Tumblr. In a piece in The New York Times Magazine, Ansari writes a loving tribute to his friend, who lives on through a digital footprint. "It hurts, because for a second, I forget what has happened, and then this electronic ghost forces me to remember all over again," Ansari writes. He remembers some of the great Wittels jokes that appeared on Master of None, including the one about texting a turtle in a briefcase and the other where Colin Salmon sets up a domino show. 
As he goes down a digital rabbit hole of Wittels, there are some great exchanges, including this one between Wittels and Parks and Rec executive producer Mike Schur:
Harris: Hey man I'm taking a [poop emoji] [poop emoji] [poop emoji] in the basement.

Mike: I'm your boss.

Harris: Found a great vacant bathroom downstairs. Be back soon. You guys keep going.

Mike: I'm tweeting this if you don't get up here in 30 seconds.
And then there's this discovery, in which Wittels pretends to call from Heaven:
Hey, it's Harris callin' from heaven. Ahh, it's pretty great up here. Ahh, it's beautiful for starters. Hitler's up here, however, for the vegetarianism thing so callin' [expletive] on that. But other than that it's pretty great. It is very cloudy. You sit on them so that's cool. Oops gotta' go, ice cream buffet!