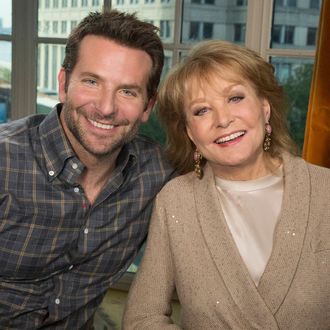 Bradley Cooper and Barbara Walters.
Photo: Heidi Gutman/ABC
Barbara Walters's 10 Most Fascinating People of 2015 special airs tonight, but it's already pretty clear whom her favorite is: Good ol' Bradley Cooper. I mean, we get it, he's adorable, but haven't you heard of playing hard to get, Barbara? "I could just sit and stare at you, but that would take too much time," Walters told Cooper, according to ET. "But I find you very screwable." Wowza! Out of the mouth of Babs. Didn't even know that word was cool to use on TV! Also, didn't know it was a word! Later, when asked about the now-famous "screwable" line on Good Morning America, Walters said, "I have to be careful what I say." Or not! Get it, girl.