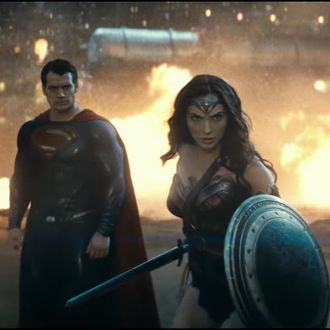 Superman and Wonder Woman, of 'Batman v Superman,' look pretty fired up about the Bat's new digs.
New year, new Batcave, new Alfred: 2016's Batman v Superman has a sweeping set of updates in store, according to pics and a brief interview over at EW. The magazine on Tuesday unveiled a shot of Batman (Ben Affleck) and Alfred (Jeremy Irons) thinking very hard in the latest iteration of the hero's headquarters — the latter character noticeably wearing an apron of sorts. That's because "Alfred is a lot more hands-­on in our film than he has previously been," Irons told EW. "He's a bit of a grease monkey, and he's very involved in the decisions Bruce makes." Here's that new-Batcave-in-action pic, which might remind you of the time Fox News somehow replaced all its desks with the Hulk's tablet collection:
And here's another look, with concept art of the duo's trendy loft-within-a-cave exterior:
You'll be able to see much more of the BvS lair when Zack Snyder's film comes out March 25, 2016. But until then, just marvel at all those screens and think about how much crime-fighting will get done.