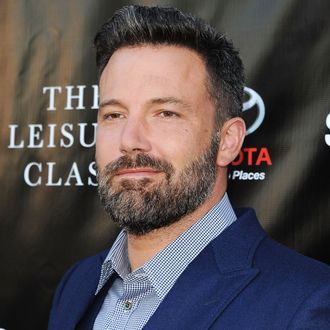 Ben Affleck also has a face.
Photo: Angela Weiss/Getty Images
The paparazzi caught a post-divorce Ben Affleck tramping around Los Angeles on the set of Live by Night, a Prohibition-era crime film earlier this week. Normally, this would not be news, but for the role, Affleck wore a hospital gown with an open back, which allowed us to finally see it: a glorious, rising phoenix, the mythological creature that symbolizes reincarnation and rebirth from long marriages soaring across the wide expanse of back flesh. This isn't a small tattoo tastefully located on the forearm or discreetly located on the pelvic bone. We are talking an enormous phoenix, aflame in hues of yellows, blues, and oranges, crying out from the tops of his lats and rising from the ashes above his gluteus quite maximus. Let's take a look at the beauty: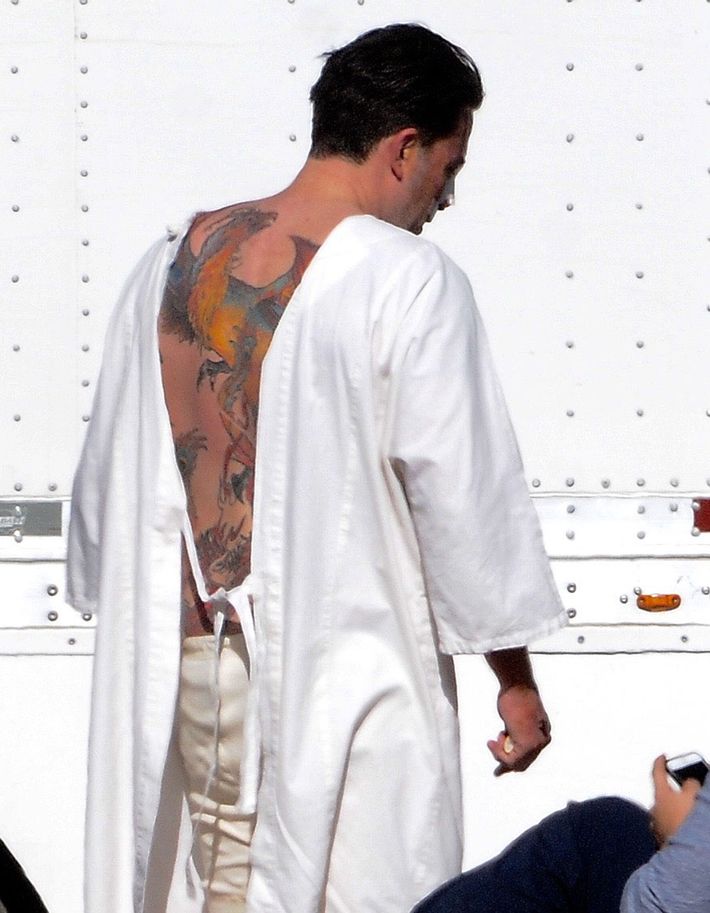 Undoubtedly your first thought echoes ours: This can't be real. And yet a number of credible sources say otherwise: "He got it done at home recently," an anonymous tipster told Us Weekly. "Guess What? Ben Affleck's Huge Back Tattoo of a Phoenix Rising Is Real" writes E!. "It's real!" exclaims People. Let's look again.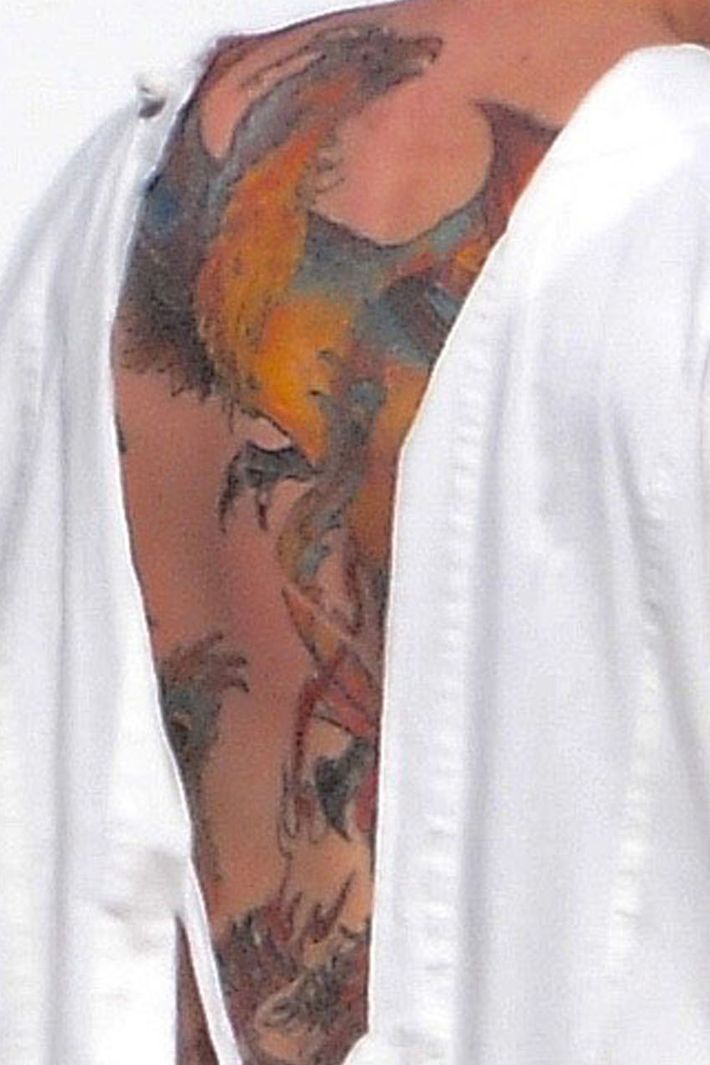 The mind reels. The juxtaposition of a burnt yellow with a light azure. The blatant symbolism of a post-Jennifer Garner life. The fashion-forward among you are thinking:
What does his ex Jennifer Garner think about this? That same Us Weekly source said, "Jen knows about it but feels like it's not her problem." (Note: This quote is curiously no longer on the Us Weekly page, but the Daily Mail aggregated it, and Vulture can confirm reading this delightful bit of secondary shade.) Also, this isn't the first time Affleck has gotten a straightforward tattoo. He has barbed wire across his bicep, a fish and skull and crossbones on his right arm, and a dolphin on his right hip covering the name of a former sweetheart, which are not exactly like the high-concept tattoos favored by Lena Dunham.
Couldn't this just be for his new movie? you ask. Fair point. Actors have been known to get very realistic-looking tattoos for roles. But now we present the most damning evidence that this is in fact real, and has in fact, been real for quite some time. Here's a photo of Ben Affleck's lower back from July of 2015: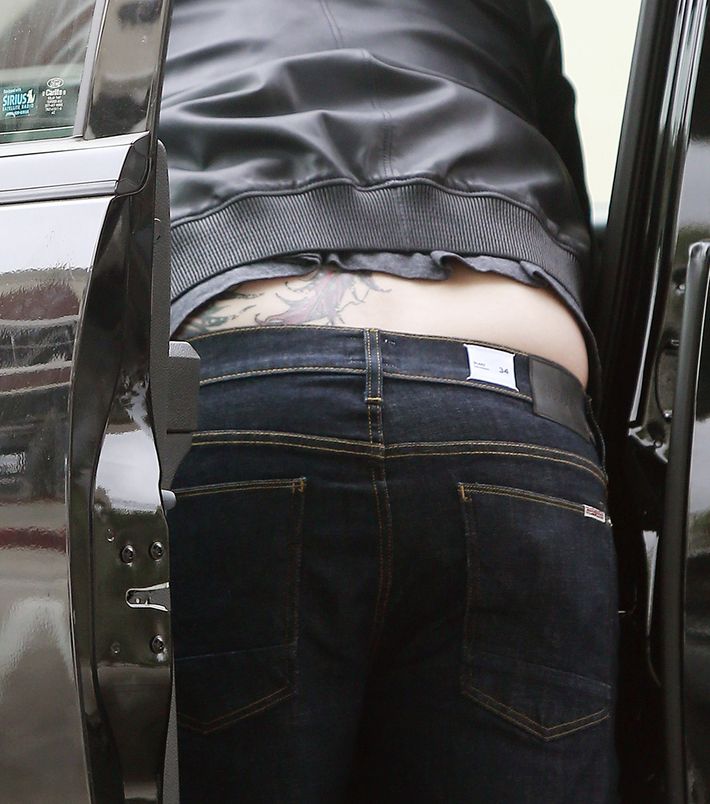 Vulture movies reporter Kevin Lincoln said it would be "fucking crazy" for Ben Affleck to get this tattoo. This isn't simply a matter of taste, but rather, professionalism. Ben Affleck has to inhabit a lot of different roles for his job. Can you imagine that Gone Girl scene if the camera showed you the curl of a Phoenix feather before getting to that sweet D? No. You cannot.
Not to mention, he's playing freaking Batman. Batman can't have a phoenix tattoo; he's Batman. They'd have to spend five minutes in Batman V. Superman explaining that Batman had a mid-Bat-life crisis, after his divorce from Catwoman (a fact that would also have to be established). Also, the Phoenix is associated with Marvel, which causes all sorts of universe problems.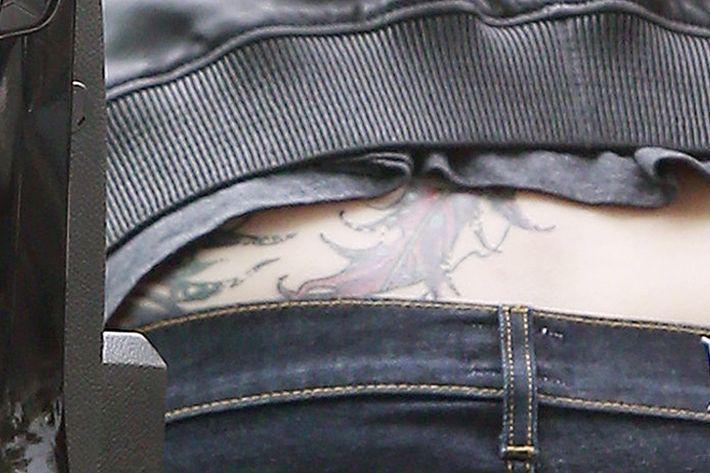 That is a real tattoo, you guys. And more so, it's delightful, because nothing says "I'm an independent guy who makes his own decisions" better than a back tattoo of a giant bird. Let's face it, that's commitment to an idea. Ben Affleck is going all-in on the symbolism of rebirth and a single life. He is embracing bachelorhood. He is going to pee into the wind.
Just to make sure, let's do one more zoom in: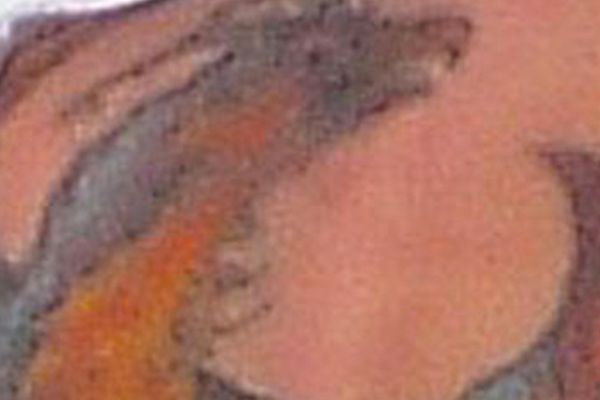 Case closed.