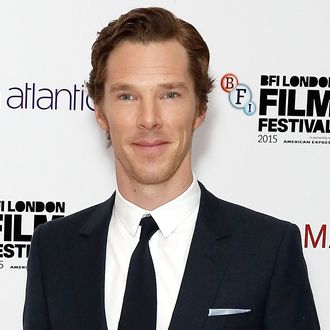 Benedict Cumberbatch.
Photo: John Phillips/2015 Getty Images
Benedict Cumberbatch will return to World War II, according to Variety, but this time with literal tricks up his sleeves: The trade reports the Oscar-nommed Imitation Game actor will star in The War Magician, a dramatized retelling of real-life British illusionist Jasper Maskelyne's wartime efforts to dupe the Nazis. A helmer has not been revealed, but Rogue One's Gary Whitta is adapting a script from David Fisher's fact-based book of the same name. (Other logistical details are under wraps and this project has reportedly been in development since 2003, so here's hoping it maintains its momentum.) Cumberbatch will play Maskelyne as he's depicted in Fisher's work, which, according to a producer on the project, means much more extroversion and confidence than in Imitation, and involves amassing a Magic Squad and lending large-scale camouflage talents to the Allies. Need to hide the Suez Canal? Yep, magic-savvy Cumberbatch is your guy!