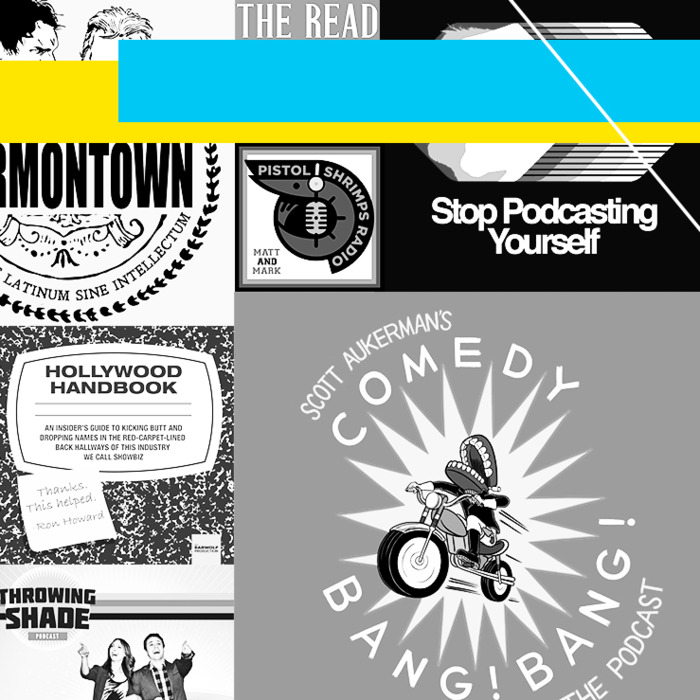 This month Vulture will be publishing our critics' year-end lists. Last week's lists included movies, albums, art, and video games. Today's all about comedy: the best sketches, specials, and podcasts.

1. "Comedy Bang! Bang!"
"Comedy Bang! Bang!" has come a long way in the six years since it started on internet radio as a spinoff of a weekly live show. Yet it remains the most consistent comedy podcast in town (and that town, considering the rest of the list, is Los Angeles). Though the format hasn't changed much — a guest talks about their upcoming project until a person in character interrupts — the show continues to improve, as the universe of hilarious characters grows and host Scott Aukerman has developed into a comedic force unafraid to lead the show down a rabbit hole into chatter that is excruciating to some listeners and pure ecstasy to others. If you are a new listener, you're in luck, as, starting next week, Aukerman and Paul F. Tompkins (as himself) will go through a multi-part end-of-the-year countdown of fans' favorite episodes.
2. "Stop Podcasting Yourself"
In making this list, I avoided funny shows where the object is to interview someone, as they felt as much at home on the other podcast list. What I ended up favoring is the hanging out sort of podcast, where the guest is there to be funny, not to be questioned. And "Stop Podcasting Yourself," based out of Vancouver, is my favorite. Dave Shumka is a new dad who generally has it together. Graham Clark is a stand-up who is allergic to most things and has a monstrous blond beard that he sometimes paints with. Together, their niceness (again, they're Canadian) and charm is infectious. Plus, you might even learn a little about our neighbors to the north.
3. "My Brother, My Brother and Me"
"MBMBaM" (pronounced ma-bim-bam) is ostensibly an advice show. Three brothers, connected remotely, answer questions from listeners and Yahoo Answers. But something about the dynamic between the brothers McElroy usually causes things to go off the deep end very quickly. Like many of these shows, there are plenty of inside jokes to reward longtime listeners, but can any other show claim an official reference in Hamilton?
4. "Harmontown"
Dan Harmon, known for creating Community and co-creating Rick and Morty, hosts this reliably funny podcast, which is recorded weekly in L.A. Off-the-cuff rants from Harmon and rap battles are reason enough to listen, but when things took a turn in Harmon's personal life, as he separated from his wife, Erin McGathy, who had been a big part of the show, Harmon used the show to sort out his feelings. The journey can be spellbinding and hilarious.
5."How Did This Get Made?"
There are a lot of bad movie podcasts. What sets "HDTGM" apart is the dynamic of hosts June Diane-Raphael, Paul Scheer, and Jason Mantzoukas. These aren't just funny bros hating on movies, they're professional comedians and performers who actually have an understanding of the business. The show is at its best when they get really worked up and things get "bonkers!" The show has become more interactive, especially as they do more and more live shows. Nearly every movie is instantly accessible, so listeners can watch in advance of the main episodes and sound off to be heard in "corrections and omissions" in the mini-episodes.
6. "Throwing Shade"
"Feminasty" Erin Gibson and "Homosensual" Bryan Safi talk about feminist and gay-rights issues in a subjective, hilarious style, featuring many silly insults and halfhearted impressions. But they also talk about their weekends and groceries and try very hard to derail each other. Gibson and Safi's passion is sincere, and refreshingly, as they aren't afraid to get mad — furious, even — at injustice. This year, the hosts were more comfortable getting into the weeds of both complicated policy issues and completely nonsensical bits.
7. "Hollywood Handbook"
A lot of comedy podcasts are made by people who work in entertainment in L.A. Some of them poke fun at the idiosyncrasies of life in the industry. But no show goes as far as "Hollywood Handbook," where hosts Sean Clements and Hayes Davenport — who are actually comedy writers — play exaggerated, insider-y versions of themselves to great comedic effect. Imagine if Stephen Colbert, the character, were actually two people who were equally as egotistical and dumb, but were L.A. douches instead of cable-TV blowhards. This year, it felt like the guys really hit a stride, as they were able to better articulate their characters and find guests who quickly got what was going on.
8. "With Special Guest Lauren Lapkus"
On "With Special Guest Lauren Lapkus," the guest plays a character hosting their own imagined podcast. Lauren Lapkus plays their guest. Often, the best episodes are when Lapkus plays one of her beloved characters from "Comedy Bang! Bang!" like "The North Pod," with Paul F. Tompkins playing Santa and Lapkus as "naughty elf" Ho Ho ("Ho Ho!"). The show gives Lapkus and her comedian guests just enough of a premise to ground often ridiculous improv. In this case, the ambitious premise pays off, and a new listener really can easily start with any episode.
9. "Pistol Shrimps Radio"
A group of women in Los Angeles started a municipal basketball league, and two friends started a podcast to narrate their games. It doesn't sound like much on paper, but the narrators, Matt Gourley and Mark McConville (both podcast vets best known for the revolutionary "SuperEgo"), have created a show with irresistible energy and infectious silliness. What Gourley and McConville lack in basic basketball knowledge, they make up for in fake movie trivia and invented referee names. The pace of the basketball game gives the show a unique forward momentum, and the simple drama (Will they win?) always made me hungry for the next episode.
10. "The Read"
The internet is full of takes, but they are rarely as funny and entertaining as they are on "The Read." Whether hosts Crissle and Kid Fury are dishing on Queen Beyoncé or begging Chris Brown to be boring for once, "The Read" is what I want to be listening to when there's crazy pop-culture news. They are harsh to celebrities whom they feel have violated the trust that the public places in them, and equally kind to listeners who turn to them for advice about sensitive topics. Plus, some of Fury's impressions, like Martin Lawrence, are shockingly good.
BEST COMEDY PODCAST EPISODES
1. "Judge John Hodgman," "The Santa Suit"
Unlike most advice shows, John Hodgman focuses on often picayune disputes between friends or loved ones. But these cases, about how best to deal with a bat infestation or where it's okay to leave a gross towel to dry in a shared office, are often about how we should live our lives. This episode, where a woman complains that her husband's Santa impersonation is creeping too far into her marriage, is typically funny and poignant. Considering the subject, it's also one the cutest podcast episodes of all time. 
2. "Spontaneanation," "A Theme Park Break Room"
Paul F. Tompkins's new podcast "Spontaneanation" is built on a format you'll find at most improv theaters: A cast of comedians base a long-form improv on an interview. PFT throws a little wrench in there, though, by allowing the guest to also pick a location. Here, Raphael Bob-Waksberg, creator of BoJack Horseman, suggests "a theme-park break room," which was exactly what Erinn Hayes, Marc Evan Jackson, and Mark McConville needed for what was easily one of the most wildly funny podcasts of 2015.
3. "U Talkin' U2 to Me?," "iNNOCENCE + eXPERIENCE Tour"
This show has more or less grounded to a halt, as hosts "Scott" (Aukerman, of "CBB") and "Scott" (Adam Scott, of Party Down and Parks and Recreation) have already run through the titular band's catalogue. Still, this year's three episodes were a treat. Our hosts get U2 concert tickets and are surprised with something extra. You might have heard about the episode where they interview the band, but this one's funnier and doesn't demand as much interest in U2. The bits within bits are dynamite, and the storytelling is fun and just suspenseful enough.
4. "The Best Show," "Fly Like an Eagle"
"The Best Show" features the most rabid fans in the business, which means the Friends of Tom are probably already furious with me for not including him up top. That said, it's good to have Tom Scharpling back, as the show, which ran on the radio at WFMU in New Jersey for 13 years, returned after a year off late last year. The best "Best Show" from this new podcast version may be from just after Scharpling's dad passed away early this year. For a guy who is known for finding comedy in bitterness and grumpiness, Scharpling's honest reflection was heartfelt, inspiring, and very funny. 
5. "Comedy Bang! Bang," "Mailer Daemon: Jason Mantzoukas, Nick Kroll"
Jason Mantzoukas and Nick Kroll have been on Scott Aukerman's "CBB" many times, and their extreme comfort with the format and each other leads the trio into unexpected, hilarious, and even gross territory. Were they planning on summoning the Mailer Daemon from the start? Probably not, but we are thankful that's where they ended up.
6. "Stop Podcasting Yourself," "Alicia Tobin"
Different guests have different rapport with "SPY"'s two hosts. With Paul F. Tompkins, it's mutual respect and admiration. With John Dore, it's mildly adversarial and quippy. For fan favorite Alicia Tobin, it's giggly silliness. Discussion ranges from Tobin's health-food knowledge to Canadian snack food pizza pops.
7. "My Brother, My Brother and Me," "The McElroy Family Fun Hour Brought to You by Totino's"
In the arms race of unique and complicated premises, sometimes a show is so out there that the hosts have to reassure the listener that "this is really happening." In this special non-canonical episode of "My Brother, My Brother and Me," the McElroys spend 45 minutes extolling the virtues of the Totino's family of products. Griffin attempts a pizza-roll "power hour" by eating one each minute. Yes, Totino's really gave them money to do this. In the world of sponsored content, this is a perfect match.
8. "Never Not Funny" "Andy Daly"
Any appearance where Daly's not performing as a character is kind of a rare treat. Things get out control quickly as person after person from the show heads across the street to the 7-Eleven in order to find out what's going with the sign hanging outside. Within about ten minutes, everyone on the show has asked the employees, and the riffs are just as rewarding as classic radio pranks.
9. "How Was Your Week," "Stick and Pins"
This year, fans of Julie Klausner's "How Was Your Week" celebrated the release of her Hulu show Difficult People, which is a delight. (Sadly, though understandably, it resulted in Klausner releasing fewer podcast episodes this year than usual.) On this episode, she watches the first two episodes on her laptop and narrates the experience, commercials and all. It's fascinating to hear about her creative process firsthand, as well her gut reaction to seeing herself onscreen and what she thinks about the finished product.
10. "Til Death Do Us Blart," "2015"
The brothers McElroy, along with New Zealanders Guy Montgomery and Tim Batt of "The Worst Idea of All Time" (watching Sex and the City 2 every week for a year) have started a new tradition. On Thanksgiving each year, they will release a podcast about Paul Blart: Mall Cop 2 — for the rest of their lives. Everyone agrees the movie is bad, but Travis's 11 annotated laughs send Griffin over the edge. Listen to this year's episode, or just wait a bit and check back in 2045.