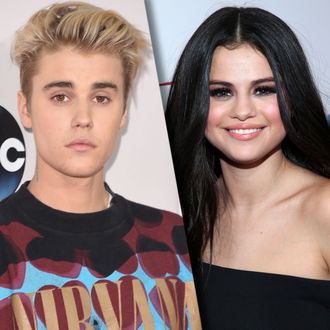 Exes.
Photo: Getty Images
Justin Bieber's Instagram has started looking a lot like it belongs to Ali Larter in Obsessed. It seems a week can't go by without him posting a random picture of Selena Gomez from when they were dating, or going on a talk show to discuss wanting to get back together with her. Bieber told everyone to "calm down" when he posted this throwback, even though he knew people wouldn't:
Not to mention this recent one, simply captioned, "Crazy throwback." Like, yeah. It is crazy. Chill, bro.
Or captioning a photo "Omg who is this!!" and sending his followers to track down this Selena Gomez look-alike, as if she were the head of Alfredo Garcia:
Maybe it's because he didn't put out a rape-culture anthem like "Blurred Lines," but Bieber hasn't really been called out on this behavior, despite him cribbing from the Robin Thicke Book of Bothering Somebody Who Doesn't Want You. Remember when Thicke released the album Paula and was duly dragged for it? Someone on Bieber's team probably remembered that and changed the title of his latest album from Selena to Purpose at the last minute.
Gomez's recent album, Revival, with songs like "Sober" and "Same Old Love," are indications that she doesn't see it for Bieber right now. Well, that, and making out with One Direction's Niall Horan. She also knows that revenge, as well as Instagram shade, is best served cold. So of course Gomez didn't make her own post but rather slid into the mentions of one of her fans and delivered this ice-cold diss of Purpose.
She didn't just pick One Direction's Made in the A.M. — she picked it twice. That's some my-sorting-house-is-Slytherin behavior.