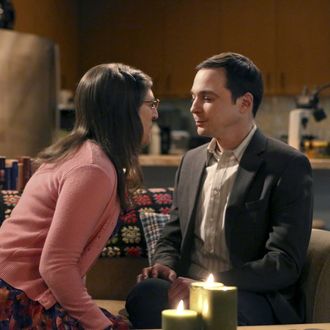 'The Big Bang Theory.'
Photo: Michael Yarish/CBS
The daughters of a New Hampshire teacher have sued CBS and other Big Bang Theory producers for copyright infringement, because they claim the show has been using their mother's poem without proper attribution or permission, according to the AP. Edith Newlin wrote a poem about a "Warm Kitty" in the late-1930s (TMZ has a copy of what appears to be the sheet music). Fans of the series might recognize a lullaby used on Sheldon (Jim Parsons) that has similar words, starting with soft kitty instead. "The 'Soft Kitty' lyrics are among the best-known and most popular aspects of The Big Bang Theory," the lawsuit says, according to the AP. "They have become a signature and emblematic feature of the show and a central part of the show's promotion."
The problem is the Newlin daughters say their late mother has never been credited on the show and nobody in their family was ever paid for the poem — to boot, they add that their mother's lyrics have been featured on merch, in eight episodes, and at three or more Comic-Cons. The lawsuit seeks unspecified damages. Deadline notes that Willis Music Co. published the lyrics in a school songbook, and it claims it gave Warner Bros. Entertainment proper permission to use the lyrics.
"In 1937, we published a book called Songs for the Nursery School, and we sold tens of thousands of copies," Willis Music owner Kevin Cranley wrote on the company's website, according to Deadline. "It is a hardbound book of over 150 songs for children. The book was written by Laura Pendleton MacCarteney. In that book on page 27 is 'Warm Kitty.' Warner Brothers and I worked together to secure the rights for the show The Big Bang Theory and they have been using the song ever since. The writers wanted the song because one of them remembered it as a child. They also wanted to slightly change the words and I'm really not sure of the reason for that change."
At the time of publication, Big Bang producers had not released a comment. But the lawsuit reportedly claims Willis Music never consulted the Newlin family about the Big Bang Theory; it's unclear right now what Newlin's initial contract stipulated as part of the publishing deal.