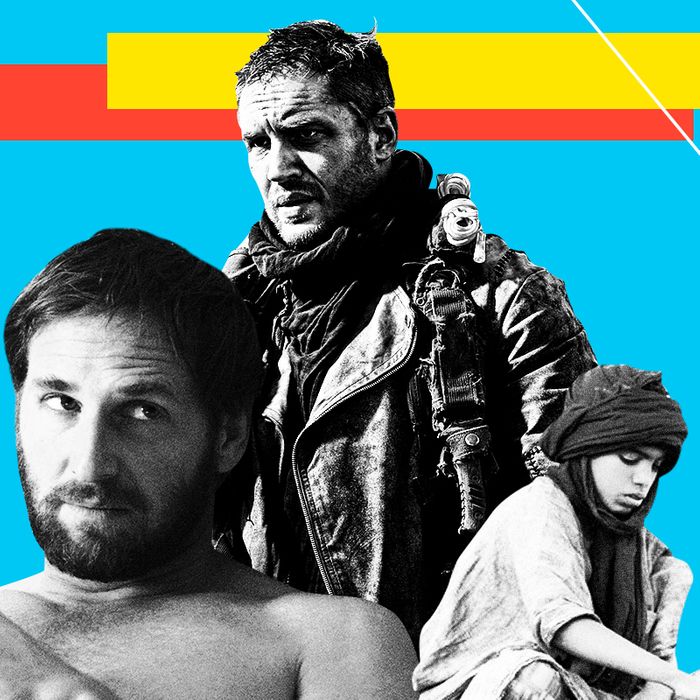 Photo-Illustration: Vulture and Photos by Moxie Pictures, Warner Bros and Les Films du Worso
This month Vulture will be publishing our critics' year-end lists. Last week's lists included movies, albums, art, and video games. This week we started with comedy: sketches, specials, and podcasts. Today we have Margaret Lyons's top shows and Bilge Ebiri's top movies, plus music videos and memes.
1. Mad Max: Fury Road
So much has been said about this already, but George Miller's fourth Mad Max film really is a monumental achievement. It's not just one of the all-time-great action movies, but also a very personal film – the kind that lets its brief quiet passages speak volumes. If the first Mad Max was a gonzo gearhead exploitation flick, the second a myth, and the third a sci-fi survival tale, this new one is a rolling, subjective nightmare, complete with painted demons and body-snatching monsters and a bad guy who looks like the very face of fear. It also presents a surprisingly detailed vision of the future; not a frame is wasted in Miller's portrait of a twisted new civilization being born from the ashes of the old. We'll be watching and writing about this for many years to come.
2. Timbuktu
Abderrahmane Sissako's film about a Jihadist takeover in Mali was nominated for the Best Foreign Film Oscar last year, but it was released in New York this year, so it qualifies for this list. The filmmaking itself is somber, sober, and generous — the director's humanity and humor even shine through his depiction of the ostensible bad guys — but the movie's urgency cannot be overstated. Sissako understands something that many filmmakers don't: that villains who are human, at times even reasonable, might be even more terrifying than outright monsters. If I could pass a law forcing people to watch one film this year, this would be that film.
3. The Mend
John Magary's debut feature, about two estranged and very different brothers who find themselves sharing the same Harlem apartment, might be the best-acted film of the year (with Josh Lucas and Stephen Plunkett both incredible as the two siblings). It's also the most devious: The two protagonists' different personae determine the film's competing rhythms, as Magary shoots and cuts in tandem with his characterizations. This is not the kind of reassuring movie you kick back and enjoy; it's the kind of movie you lose sleep over.
4. The Best of Enemies
During the 1968 party conventions, the struggling ABC News had the bright idea of putting on the right-wing William F. Buckley and the left-wing Gore Vidal to debate the issues of the day. The two men hated each other, and the ensuing fireworks changed not just television but also, as this film argues, our media culture forever. Somehow both incredibly entertaining and incredibly sad, this beautifully produced documentary uses the framework of the Vidal-Buckley debates to explore the two men's personal histories, the conflicts of the 1960s, and the lamentable future of American society. Slickly produced but essential, it explodes in your mind.
5. Eden
Mia Hansen-Love's rambling epic about a French DJ's life and career reflects the peculiar mood of the "New York Garage" music that he plays — "between euphoria and melancholia" is how he himself describes it. Though it's based on the experiences of her own brother, Hansen-Love isn't interested in delivering a biopic, or a history, or a star-is-born tale. The music is glorious, but the people are adrift, aimless, rarely cracking a smile. This is a sad movie about bringing other people joy. And, in keeping with Hansen-Love's understated approach, it sneaks up on you. The camera can drift around multiple characters and situations before teasing out a story line or emotional thread.
6. Heart of a Dog
Laurie Anderson's essay film is ostensibly about the life and death of her (shockingly accomplished) dog, but this mad, wonderful work leaps among ideas with uncommon cinematic dexterity. "Pity the fool who tries to diagram Heart of a Dog," David Edelstein said in his review, and he's right: The relatively short film starts off simply but then goes on to encompass everything from childhood memories, to the changing nature of Manhattan neighborhoods, to the post-9/11 surveillance state, to our relationship with animals, to our ideas of mourning, to so much more. Meanwhile, although Anderson's late husband Lou Reed appears only very briefly, his death also haunts the film. Possibly the most emotionally overwhelming movie I saw this year.
7. Saint Laurent
Here, then, is a perfect example of why it helps to let movies sink in. When I first saw Bertrand Bonello's fragmentary Yves Saint Laurent biopic (at last year's New York Film Festival), I admired it greatly but also felt curiously removed from it. I saw it again a couple of months later, and was enraptured … then, after a third viewing, even more so. It's not a typical biopic, to be sure. It does away with exposition, and by the end you may find yourself knowing less about YSL than you did going in. But as a sheer cinematic experience, it's unforgettable — a mesmerizing collage of sights and sounds, showing how YSL's life fed his art, and how his art in turn imprisoned him. This is a movie drunk on beauty.
8. Room
Everyone already knows that Lenny Abrahamson's tense, terrifying drama is about Brie Larson and her 5-year-old son (Jacob Tremblay) imprisoned in a room by the man who abducted her many years ago. But what may not initially be clear is that this is a far more universal tale about parenting, about the bond not just between mother and child but also between child and setting. It's about the way that we latch on to the most unlikely things, and our very human tendency to invest them with all sorts of meaning.
9. Mustang
Deniz Gamze Ergüven's tale of five vivacious sisters in a Turkish Black Sea village who are forced to start covering up and enter into arranged marriages is a coming-of-age movie shot like a ticking-bomb thriller. But what makes it truly special are its insights into where this repression comes from; Ergüven understands the twisted, paternalistic idealism behind all this forced modesty, and the intelligence behind the camera shapes and reinvents the melodrama unfolding in front of it.
10. Sembene!
This documentary about the remarkable life and career of the great Senegalese director Ousmane Sembene — often called "the father of African cinema," with good reason — is also about how co-director Samba Gadjigo, raised in a poor village on the border between Senegal and Mali and inspired by the older filmmaker's work, came to find his own voice. It's a testament not just to the love of movies, but also to the power of movies.
Honorable Mention:
Blackhat
Bone Tomahawk
Brooklyn
Carol
It Follows
Jauja 
James White
Spotlight
The Keeping Room
The Second Mother