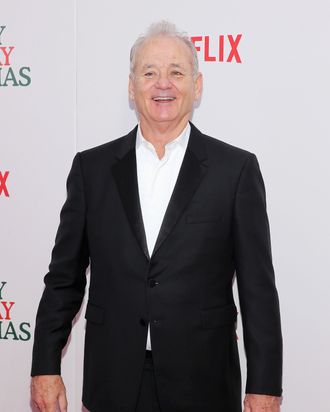 Have a very Murray Christmas!
Photo: Jemal Countess/Getty Images
The magical, mystical aura of Bill Murray is legendary in pop culture, so much so that we wanted to know how to live a Bill Murray way of life. So, how does Bill Murray get through the upcoming slog of holiday parties? "If you go to a party, I think the most important thing is to hydrate," Murray told Vulture at the New York premiere of his Netflix holiday program, A Very Murray Christmas. "If you hydrate, then the party can last a long time. If you don't hydrate, then other people have to deal with getting you home. And for my most preferred playlist, I really like to shuffle. I think it's important to shuffle." How sensible! Now, what about those stressful New Year's resolutions? Does he resolve each year to be a better Bill Murray?
"I've had mostly no success with resolutions," Murray said after a few moments of stroking an imaginary goatee. "I find that resolutions are best made a couple of weeks later. I think that there's a lot of stress, panic, and tension around New Year's, like you feel you have to make a resolution now. I would say resolving to make a resolution is the most important thing."
Bill Murray: Personifying our honorary cool dad since 1950.