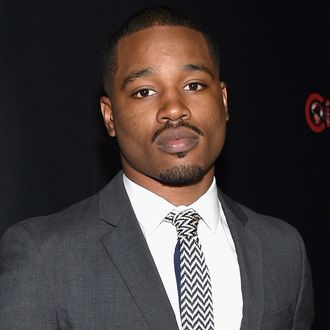 Ryan Coogler.
Photo: Michael Buckner/Getty Images
That was fast: A week after Creed made him the hottest up-and-coming filmmaker in Hollywood, Variety reported Ryan Coogler was in talks to direct Marvel's Black Panther movie. According to Polygon, Marvel Studios president Kevin Feige also talked to Empire about bringing on Coogler to helm a "mostly black cast." "This one is important," Feige said. "Not only do you get an unbelievable lead character, but you also get all of Wakanda which is a whole new setting and culture to explore." Before Coogler's name was in the mix, Marvel was reportedly courting Selma's Ava DuVernay for the job of bringing Chadwick Boseman's T'Challa to the screen, but she declined the offer because it "wasn't going to be an Ava DuVernay film." Coogler will be only the second Marvel director not to be a white guy, after Thor: Ragnarok's Taika Waititi. Either way, it's been an impressive rise for the 29-year-old director, whose previous film, Fruitvale Station, won him the Independent Spirit Award for Best First Feature in 2014.
Update: Marvel released an official confirmation Monday, almost two weeks after talks of Coogler's involvement began boiling. "We are fortunate to have such an esteemed filmmaker join the Marvel family," Feige said in a new statement. "The talents Ryan showcased in his first two films easily made him our top choice to direct Black Panther. Many fans have waited a long time to see Black Panther in his own film, and with Ryan we know we've found the perfect director to bring T'Challa's story to life." (A bit of background, here.) The character, as portrayed by (the very secretive) Chadwick Boseman, makes his debut in Captain America: Civil War, on May 6. And the stand-alone film is slated for February 16, 2018 — you have some time to savor this news.