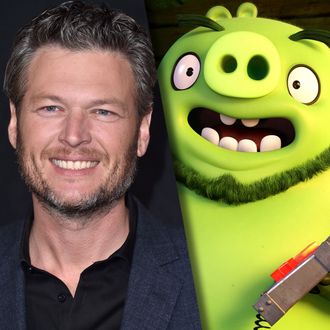 Two totally different things.
Photo: Getty Images, Columbia Pictures
Blake Shelton is a pig, which is a factual statement about his role in the upcoming Angry Birds movie and is in no way meant to be a reference to the country singer's moral character. EW reports that Shelton will voice a piggish country singer in the film, which, again, is a sentence you should take literally, because the character is an actual pig. No one is insulting Blake Shelton here. Shelton also penned a song for the film's soundtrack, which he says was more difficult than he expected: "I can write things about myself and my life. But I don't have a whole lot of experience being shot out of a slingshot at pigs." See? None of this has anything to do with Blake Shelton's personal life.