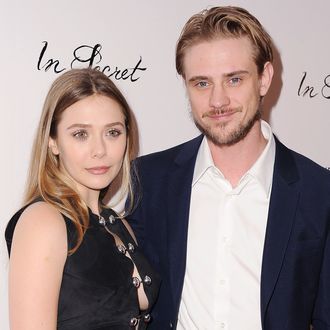 The former couple in happier times.
Photo: Angela Weiss/Getty Images
Are you a fan of the up-and-coming actor Boyd Holbrook, that nice young man from Narcos? Do you possibly want to know more details about Mr. Holbrook's personal life, including a terrible day he had last year? Okay, here goes: "On the same day that my best friend died, I got a call from my girl to tell me it was over," Holbrook said in the most recent issue of Man of the World. The girl was Elizabeth Olsen, who was reportedly engaged to Holbrook in 2014; the best friend was portrait photographer David Armstrong, who died of liver cancer last October. (Holbrook often shot with Armstrong during his modeling days.) No jokes here: That is a sad story.