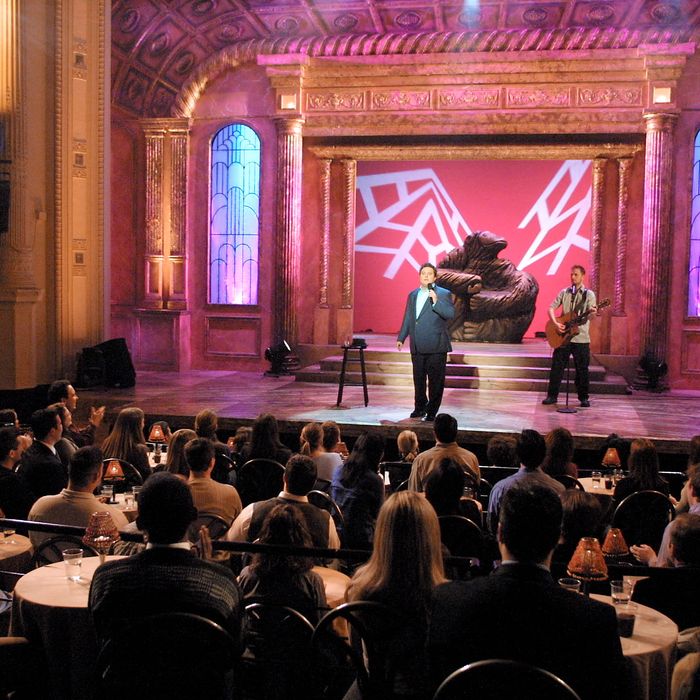 Comedian Sean Cullen performs with guitarist Dylan Godhue during "COMEDY CENTRAL PRESENTS" at the Hudson Theater in New York City. 2/4/02 Photo by Scott Gries/ImageDirect
Photo: Scott Gries/Getty Images
There are several ways to define a Broadway theater, all tautological. It's a theater that uses a Broadway contract. It's a theater in the Broadway district — Sixth Avenue to Eighth Avenue, 41st Street to 54th Street — except when it isn't. (The Hirschfeld is west of Eighth, and, oops, the Vivian Beaumont is up at Lincoln Center.) While a theater must have 500 seats or more to qualify, many in the district that do, including City Center, Town Hall, and the PlayStation Theater, right at Times Square, aren't included. Broadway is what we say it is. 
In any case, it's about to get bigger, as the first new theater since the Stephen Sondheim (which opened as Henry Miller's Theatre in 2009) gets set to bring the total from 40 to 41. Actually, No. 41 is not new; it's the historic Hudson, which opened in 1903 on West 44th Street and has variously served as a legitimate theater, a radio studio, a television studio, a porn house, and, in the 1980s, the Savoy. Since 1987 it has been used by the Millennium Hotel, which basically swallowed it, for conferences, parties, and the occasional Comedy Central taping.
Its return to legitimacy is good news; Broadway never has enough stages available for all the people hoping to lose money by producing plays. And the Hudson, aside from being beautiful (last time I saw it) is a good, medium-sized house, with around 1,000 seats. The Ambassador Theatre Group, which already owns the ginormous Lyric, plans to reopen the venue, after renovations, in time for the 2016-17 season. Perhaps with something starring Drew Barrymore? Her great-aunt, Ethel, opened the joint in 1903.