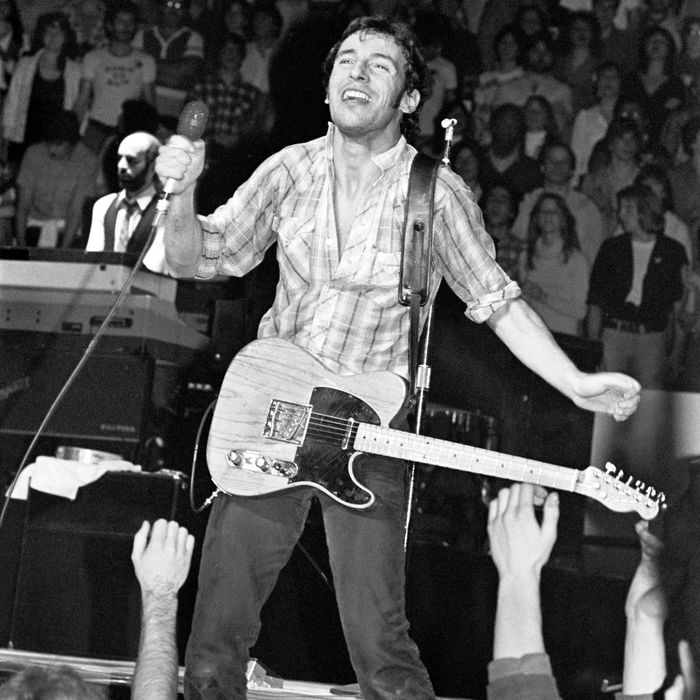 Bruce Springsteen performing at Madison Square Garden in New York City on November 27, 1980. (Photo by Ebet Roberts/Redferns)
Photo: Ebet Roberts/Redferns
It took Bruce Springsteen a year and a half to put together his fifth album, 1980's double-LP The River. Along the way, he'd write and record over 50 songs, and sequence two different single-album versions, one of which would be signed off on and submitted to the record company before Springsteen changed his mind and went back into the studio to ultimately come out with 20 songs across four sides.
Springsteen's career got off to a rocky start, but by 1979, he had achieved an impressive amount of success by anyone's standards. His previous album — 1978's Darkness on the Edge of Town — went to No. 5 on the Billboard Pop Albums chart, and he was comfortably selling out arenas all over the country. But Bruce still couldn't shake his concern that every record could be his last, likely stemming from the fact that the year before Darkness, he legally wasn't allowed to record due to a bad management contract. The River would ultimately provide Springsteen with the momentum to achieve the true international stardom that accompanied Born in the USA in 1984, thanks to an extended studio knowledge he'd built up and the kind of songs that further established the thematic foundation he's still building on today.
With the release of Columbia's deluxe boxed set, The Ties That Bind: The River Collection, last week, the full scope of Springsteen's artistic crisis in this period of time has now been made available to anyone who wants to hear it. You can listen to most of the outtakes, as well as that originally submitted single-album version of The River (which was indeed called The Ties That Bind), and make up your own mind about whether the right songs made the final cut.
Springsteen had almost impossible goals for this album, which is part of why it took a year and a half. He wanted to make a record that captured the feel of the E Street Band live. He also wanted to write songs about relationships, and family, and how they fit into his world. Bruce was turning 30, and feeling it — watching his friends pair up, grow up, it's all the same. He wanted to portray the depth of the human experience, but he also wanted to be able to rock out.
Was there a one-album solution that satisfied all those goals in that enormous pile of songs? Yes, absolutely. The Ties That Bind was closer to accomplishing Springsteen's stated goals than he was willing or able to recognize at the time. Everything he wanted to achieve had been captured by material that the band had already recorded, and throwing the album out just opened the door for Bruce to get bogged down in the recording process. The songs that got written or introduced later in the process would have had more room to breathe on the next album, if they weren't usurped by even better songs. There are fans — including Bruce's main man Steve Van Zandt — that swear the best material from The River is sitting in some of the boxed set's outtakes.
Based on what's included in the boxed set, here's one try at sequencing an alternate, single-album The River/The Ties That Bind that fits Springsteen's requirements. Keep in mind: It's 1980, so records are 44 minutes, 22 minutes each side, and there's a Side A and Side B. (Listen to our version via Spotify.)
SIDE A
1. "Roulette": This was the first song the band recorded for the album, Springsteen's response to the -thenrecent Three Mile Island nuclear disaster. It was his first true "answer" song, the way Crosby, Stills, Nash & Young's "Ohio" was an answer song to Kent State. Bruce has said many times that leaving this song off the record remained one of his biggest regrets. He would revive the track for the 1988 Tunnel of Love tour; live, the song is an absolute showstopper. It is a breathless, pounding, dramatic account of disaster, escape, life, and death, with careful lyrics and masterful phrasing. Springsteen is in lockstep with drummer Max Weinberg and creates visceral tension from the first breath.
2. "The Man That Got Away": This was good enough for the first version but sacrificed for the second version, probably because "Be True" (which employs a similar metaphor of the movies vis-à-vis real life) was already there. "Be True" is a good pop song, but "The Man Who Got Away" is a better song, musically and lyrically — grand, sweeping, and epic, like Morricone meets Motown. Garry Tallent, Danny Federici, and Roy Bittan are the absolute stars of this song, with bright, expressive playing from the keyboards and a rock-solid bass line holding the song down tight.
3. "The Price You Pay": If the first two songs placed their protagonists in perilous positions, "The Price You Pay" is where the reckoning takes place. Musically, it's one of those tracks where you get to hear the impeccable mechanical ability of the E Street Band manifest itself. It's an alt-country track written before there was alt-country; Springsteen has noted that he was listening to a lot of old-school country when he started writing songs, that it appealed to him because of its age: "It had adult concerns, and I was interested in going there," he says in the boxed set's documentary.
4. "Loose End(s)": This track made the first two versions of The Ties That Bind but wouldn't make the final cut, finally emerging on the 1998 Tracks boxed set of unreleased Springsteen material. (The version on The Ties That Bind is missing the s.) It's the story of love that couldn't make it, not from outside forces but from within: "We saw it happen to all the others, but to us it never would /W ell, how could something so bad, darling, come from something so good." It goes right to the heart of relationship goals both spoken and unspoken by Bruce: "It was a mystery how people were successful at those things," he says in the boxed set's documentary, just before it shows onstage footage of him tipsily playing Max Weinberg's wedding, gleefully noting that "when you gotta go, you gotta go." This is a track echoing to the Memphis side of the '60s, and definitely from the dark end of the street.
5. "Hungry Heart": This multitasking bit of pure pop perfection not only showcases the live feel of the band, but also tells sad, cautionary tale after sad, cautionary tale: "I had a wife and kids in Baltimore, Jack / Went for a ride and I never came back," or "I met her in a Kingstown bar / I fell in love, I knew it had to end" — the lyrics are brutal — backed with gorgeous, multi-tracked ooooohhhs courtesy of Flo & Eddie (of the Turtles, and "Happy Together"). "Hungry Heart" would give Bruce his first top-ten single, charting as high as No. 5 on the Hot 100. He was wise enough to keep this one on every single version of the record he'd sequence, although he almost gave it away to the Ramones after a night hanging out at the Fast Lane in Asbury Park.
SIDE B
6. "Meet Me in the City": This is essentially a pop-punk song that someone could write today and it wouldn't sound dated. "Meet Me in the City" might seem like a throwaway track, but listen to it once and try to walk away from it: It's got hooks for days, and will nestle into the crevices of your brain and stick there forever. It's a theme Springsteen would return to, looking for connection and community and finding them through music. (An updated version would get released in 2007 as "Radio Nowhere.") Yes, lyrically, it does seem a little bit like Bruce was trying to write a Clash song (especially when he starts talking about "jailhouse doors"), but that is not necessarily a bad thing.
7. "I Wanna Be With You": Another song about connection, more specific this time, imploring, pleading, he's in love but he's fighting it, he's giving himself reasons to go away, but they're not working: "Every day and night, I wanna be with you." This lament is underpinned by a great piano hook from Professor Roy Bittan, with Danny Federici holding it down with one note underneath all that that swells up on the choruses. It's deceptively simple, except when you stop to break down what's going on.
8. "Chain Lightning": The flip side of the preceding track: It's not love, it's lust — and he's not fighting it. "Chain Lightning" is dark, sinuous, Clarence Clemons on a baritone sax alongside a rumbling bass line (that would be resurrected later for "State Trooper"), before eerie organ filters in and the entire band chimes in on the chorus, "CHAIN LIGHTNING!" The tenor sax comes in at the end, loose and slinky — you can see a guy in a suit standing under a streetlight in silhouette, playing away. There's a great primal "AWWoooooo!" from Bruce at the end, too.
9. "Stolen Car": It's time to make amends, time to settle down, time to put away childish things. Except that the narrator can't make it work, so he gets in the car and tries to run from everything, including (and especially) himself. "Stolen Car" is magnificent and utterly heartwrenching, a key to the record, that song about "adult concerns." Springsteen unashamedly borrows from the Roy Acuff and Johnny Cash songs he had been listening to and makes them his own, with a beautifully executed country-flavored performance from the band matching him perfectly.
10. "The Ties That Bind": Glorious 12-string Rickenbacker chords ring out, and the record ends with the song that's at the heart of everything that's preceded it. 'You're walking tough, but you're walking blind," Springsteen cautions. "No man can break the ties that bind." The track features one of Clarence Clemons's trademark solos on the bridge. "It's a long dark highway and a thin white line / connecting, baby, your heart to mine," Bruce declares, and you know that it's all gonna be all right.
IN THE END GROOVE*
11. "Held Up Without A Gun": It's 1:17 of full-throttle house party, a sublime true duet from Springsteen and Van Zandt, an unsophisticated romp that drives straight through in 4/4 time. It's also remarkably topical, written as it was during a major gasoline crisis, about a guy who's driving along, suddenly needs gas, and is held up without a gun at the pump.
* Just like CDs could have hidden tracks, artists would sometimes hide a song in the end groove of a record. Think "Train in Vain" on London Calling.