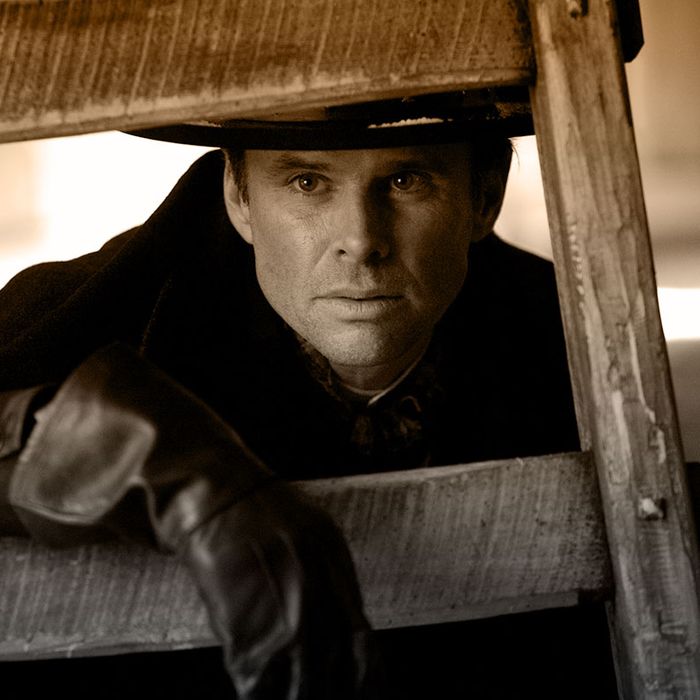 Photo: The Weinstein Company
Quentin Tarantino is the very definition of an Academy favorite: He's won two Oscars, three of his films have been nominated for Best Picture, and his most recent movies have earned a raft of Oscar nods, including Inglourious Basterds (eight nominations, one win) and Django Unchained (five nominations, two wins). Awards-season expectations are high, then, for Tarantino's latest entry — the chatty, bloody Western The Hateful Eight (out Christmas Day) — and fittingly enough, there are at least eight major categories where it will likely contend. Can it earn all those nominations? Let's break down each race.
We'll start with one of the film's surest shots, for Best Original Screenplay. Tarantino's two Oscars have both come in this category, and he hasn't been shy about his desire for a record-setting two more — "So that when I die," he told GQ, "they rename the original-screenplay Oscar 'the Quentin.'" I'm not sure he'll be able to pull off a win this year, since Spotlight and Inside Out are most oddsmakers' picks for the gold, but Tarantino's is at least guaranteed a slot for his talky script about a bunch of ne'er-do-wells holed up in a haberdashery.

And what of the actors playing those baddies? I'm pulling for Jennifer Jason Leigh to earn a Best Supporting Actress nomination as the foulmouthed murderess Daisy Domergue, but some of my fellow pundits (like The Hollywood Reporter's Scott Feinberg) think she could be left out in the cold. Voters who find the film misogynistic will likely shun Leigh, as her character is the recipient of countless insults and injuries, most doled out by her co-star Kurt Russell. But unsavory women have been nominated in this category before (and even won — just look at Mo'Nique in Precious), and I suspect Leigh's performance will prove too showy to ignore.

Tarantino's ensemble offers a wealth of Best Supporting Actor candidates, and his last two films have ultimately triumphed in that category. (Though Christoph Waltz, who took home the Oscar for both of those Tarantino films, is not among the cast this time.) The most remarked-upon performances probably come from Kurt Russell and Walton Goggins; the former brings star power (and a formidable mustache) to bear on his macho bounty-hunter role, while the latter is less well-known but an unmitigated delight as a confidently dumb rabble-rouser. But like Spotlight, which has been unexpectedly snubbed in this category by several awards bodies, The Hateful Eight's great bench of character actors (which includes Tim Roth and Bruce Dern) may also prove to be its greatest weakness: When all these men are competing against one another, they also cancel each other out.

That's likely the thinking that led the Weinsteins to position Samuel L. Jackson as the film's lead; while this cast feels like a true ensemble, if anyone from the film could make a case for Best Actor, it's him. But that category feels like it's locking down, and I'm not sure that Jackson's morally ambiguous war veteran can squeeze past men like Bryan Cranston and Matt Damon to make the final five. More to the point, if the Academy couldn't even nominate Jackson for his daring, career-best work in Tarantino's Django Unchained, I'm not sure this on-the-bubble performance will have the right stuff.

Behind the scenes, we've got two veterans and one great newcomer contending for below-the-line nods. Tarantino usually employs preexisting music for his soundtracks, but he lured the great Ennio Morricone to compose the score for The Hateful Eight; given the attention paid to that music in the film's early going (especially in its roadshow presentation), a nomination for Best Original Score is assured. Much has been made, too, of Tarantino and his director of photography, Robert Richardson, using the 70mm format to pack more detail into their frames, and Richardson will likely pick up his ninth Oscar nomination for Best Cinematography for that work. Perhaps less assured of a nod but just as worthy is Courtney Hoffman's work costuming this ragtag bunch of criminals: The looks are all striking, unique, playful, and merit Best Costume Design consideration.

Can Tarantino penetrate the two biggest categories, Best Director and Best Picture? He earned nods for the former award when directing Pulp Fiction and Inglourious Basterds, but not for Django Unchained — though that snub came in a year where the directors branch famously went its own way, blanking not just Tarantino but other expected nominees like Ben Affleck, Kathryn Bigelow, and Tom Hooper. Tarantino is doing a lot of press for The Hateful Eight, and he's practically the face of the film, but the Best Director category is insanely crowded this year, and his film may be too late-arriving to launch him in. That could limit his chances in Best Picture, too: The Hateful Eight isn't a guaranteed mainstream hit by any means, and its three-hour running time might be a tough sell for voters who are already behind on their screener piles. Still, it's Tarantino: If there's anyone who can turn Oscar's head at the last minute, it's him.
Elsewhere in the awards conversation, The Martian screenwriter Drew Goddard joins Vulture and The Frame's The Awards Show Show podcast to discuss his first time being in the nominee discussion—and his feelings on Martian being classified as a "comedy." Listen here, and then subscribe to stay on top of this year's awards conversation.