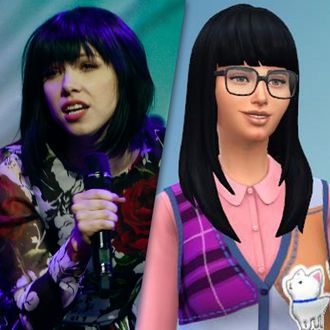 If Carly Rae Jepsen were a Sim.
Photo: Leigh Vogel/Getty Images; The Sims Studio
What does Carly Rae Jepsen's "Run Away With Me," one of Vulture's favorite singles of the year, sound like in Simlish, the gibberish computer language spoken by the Sims? Perhaps wondering the same question, the kawaii-pop singer-songwriter recorded the song for the Sims 4: Get Together expansion pack, and apparently mastered Simlish in the process. "Baby, take me to the feeling" sounds a little like "Nooboo! Tika! Lesla! Solu!" Which is what we'll say next time we see that cute Sim neighbor.
Zedd also recorded his single "Beautiful Now" in Simlish: