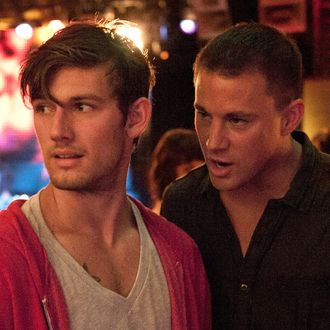 And now you know.
Photo: Claudette Barius/Warner Bros. Entertainment Inc.
Did you watch Magic Mike XXL and think, Hmm, whatever happened to Alex Pettyfer's naked bod? Well, "The Kid" (as he was known in the first film) is finally dishing on why he was left out of the sequel. Appearing on Bret Easton Ellis's podcast Monday, Pettyfer told quite the story about just how much his former co-star Channing Tatum "does not like [him]." Their tense history apparently began around the casting of Magic Mike, during which Tatum allegedly told director Steven Soderbergh not to hire Pettyfer because "he looked upon me as being a risk." At the time, Pettyfer was sort of a bad boy in the making, but his reps assured everyone that Pettyfer would keep things drama-free on set: "I was scared to speak. I actually did my work and I sat in the corner and listened to music because I had been told that anything I do is wrong by my reps." Turns out that loner plan backfired, because Tatum (and others) interpreted his behavior as him thinking he was "better than everyone else." "That's not true. I was just genuinely nervous and scared to be myself. I was in character," he explains. But then Pettyfer says he made the situation worse.
Because Hollywood's such a small bubble, after filming, Pettyfer ended up renting an apartment in New York through Tatum's friend. He left after four months due to an allergic reaction, but says he forgot to pay rent when his cousin died unexpectedly. That's when he felt the wrath of Tatum: "I all of a sudden got a very negative email from Channing, rightfully so, saying, 'Don't fuck my friends. You owe money. Pay the fucking money. Don't be a clown,'" probably in all caps. Pettyfer didn't take it well and, out of spite, refused to pay the rent: "By the end of it, I just basically said, 'Fuck them. What is money when life is so much more?' and, 'I'm not dealing with this, and I'm not paying.'"
Big mistake. When Pettyfer returned for Magic Mike reshoots, the damage was already done: "[Channing] had already told everyone he didn't like me, and what Channing says goes because he's a movie star." Pettyfer now admits he probably should've just paid the rent, but he also thinks Tatum "was just looking for an excuse not to like [him]." Still, that experience proved to be a blessing for Pettyfer, who says it forced him to leave his "immaturity" behind — proof that if you ever need someone to put you in check (though not write you a check), all it takes is one epic Channing Tatum email in your inbox.