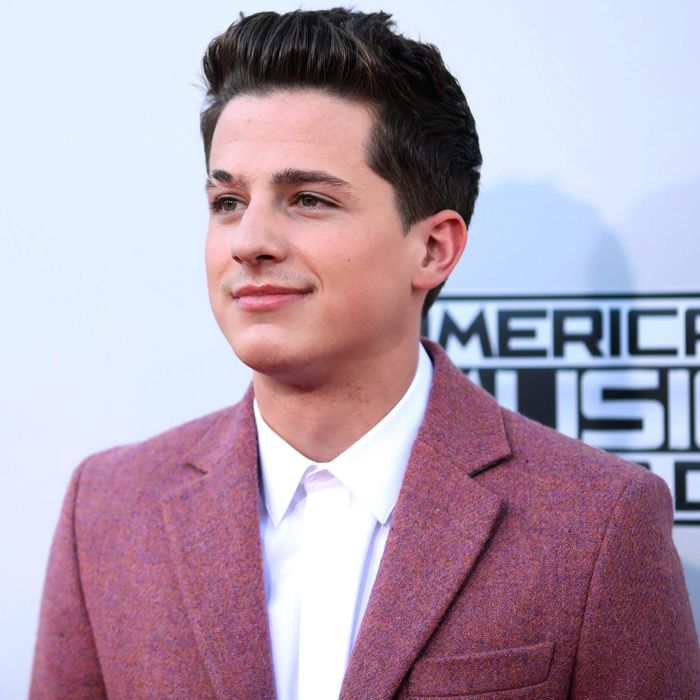 Photo: Mark Davis/Getty Images
Charlie Puth is currently famous for two things: playing tonsil hockey with Meghan Trainor on national television, and making Wiz Khalifa palatable for moms from coast to coast. Come January 29, the YouTube star turned singer-songwriter-producer — who has cut tracks with Kehlani, Trey Songz, and Jason Derulo — will perhaps become more of a marquee name: His major-label debut, Nine Track Mind, drops after delays. Like "See You Again," Puth's Khalifa-assisted elegy to Paul Walker for the Furious 7 soundtrack, Nine Track Mind is superbly smooth, albeit at times cruelly unimaginative. There's his Motown-as-bubblegum duet with Trainor ("Marvin Gaye"), there are barbershop quartet ooohs and ahhhhs, there are vows to "take you as your are," and at one point, Puth offers to climb Mount Kilimanjaro, not once, not twice, but 1,000 times to show you his love. Moms will love it.
At the ripe old age of 23, Puth could become part of that new class of young, genre-ambivalent producer-songwriters (Mike WiLL Made It, MNEK) who made a name for themselves by working with artists both big and small. Channeling that into a perfectly pompadoured solo career, however, plays up another side of Puth: It's all choirboy falsettos and blue-eyed soul. We caught up with the New Jersey native recently to talk about this balancing act in the booth and behind the boards, as well as a few of his biggest collabs to date, chocolate milk, and how "shallow" girls are on the internet, ahem.
How did your Kehlani collaboration come together?
Kehlani is a gifted writer, and it was an absolute pleasure when I was put together with her to write for her project. We had written three really great songs and at the end of it she asked me, Hey, you know that song "Hotline Bling" by Drake. And I was like, Yeah, I kind of know it. I know the album art is pink and everything like that. And she was like, Well, do you want to do a cover? And I said, Yeah, but we have to make it interesting. We have to make it a duet, you know, like split-screen telephone conversations. We tried to portray that musically, and it came out really well. Then the next morning, I saw it was written up on like 100 blogs and had, like, a quarter of a million views. It was pretty insane.
It's interesting that you've become one of 2015's duet kings.
I enjoy working with other artists and I think they enjoy when I get my musical taste to their project, too, so it always comes out very collaborative and very natural. I guess my voice isn't so terrible if I don't drink a bunch of milk. When we recorded "Hotline Bling," I didn't drink a gallon of milk.
Are you a big milk drinker?
I enjoy a good glass of chocolate milk — who doesn't? — but I put ice in it. Is that weird?
How does that affect your voice?
Oh, you're not supposed to drink that or eat grilled cheese at all, so before shows I have a piece of boring chicken and that's my life.
Huh. Is this something you learned while at Berklee College of Music? 
Ha! That was a good segue. At Berklee I ate very poorly because I never thought of myself as an artist. I was just getting out of playing classical and jazz piano. I had just left Manhattan College of Music and went to Berklee because I wanted to explore the pop side of things. Ellen DeGeneres asked me to come on her show when I was a sophomore [Puth was signed to DeGeneres's eleveneleven imprint, where she highlighted new acts she found on YouTube]. I thought maybe I could be an artist, but I still wasn't sure. There was a lot of gray area there, so I put a lot of my time into producing and making records for other artists, some of which I can easily reach out to now. It's been a blessing how quickly things have changed.
When did you decide you wanted to focus more on being an artist ahead of a producer?
Fast and Furious. I wrote "See You Again" just as a writer. I thought my vocals were just going to be the demo vocals, and they were going to end up finding someone else to sing it. However, they told me my vocal take was the realest —  thank you — and, um, they said they would love to feature me on the record. It was an honor to be a part of that franchise, and that's when I knew that I was going to be an artist.
That song opened a lot of doors for you.
Yep, 101 countries worth of doors. It's absolutely incredible.
And then Lil Wayne came into the picture, with "Nothing But Trouble."
Yes, then I get to say I've worked with Lil Wayne. That man is a genius. I flew into Miami just to be in the video with him.
How did that come together?
I'm a huge fan of Wayne, I was always a huge fan. I grew up listening to him. The song I penned for us used to be called "Instagram Models," and my team thought it would be good to call it "Nothing But Trouble" because that's where the coda ends and the hook. I think we produced out the beat a little bit and made it open for rap verses, and Wayne expressed interest on being on the record. It was a good chance to work with Wayne, and he put a brilliant spin on how girls can be pretty shallow on the internet. The video is pretty cool. The girls turn to two-dimensional figures, which represents how shallow they are, so it's really cool.
And guys can be shallow, too. Let's be fair here.
Oh, yeah, I'm sorry. Everybody can be shallow.
Tell me about working with Stevie Wonder, on Jason Derulo's "Broke."
What's crazy is when you hear that record it's actually me playing harmonica — and I don't know how to play the harmonica, but I recorded it bit-by-bit and pieced it together using ProTools, which is the software I use to record all my music because I'm producing every record too. And Jason called me and was like, "I'm at the White House and I showed Stevie Wonder the record and he's going to play on it." I couldn't believe it, and a week later I heard Stevie Wonder sing an a cappella of "mo' money, mo'-mo' money." I was like, "Damn, this is life right now." It's pretty twisted.
You're also working on Fergie's new album, yes?
Yeah, I did a record for Fergie. What's great is that every artist that I work with has a different approach to making a record, so for Fergie it was picturing what the music video would look like even before the song was remotely written. It's an approach that I use now. I nibbed it from her. I've always been a big fan of Mike WiLL Made It, I've gotten to work with him a couple of times. I'm a huge hip-hop head, so anybody who's making those banging records. Timbaland is another person on my list. It sounds like I'm bragging, but I literally never thought any of this would ever happen to me.
Because you've been the go-to duet guy this year, do you feel some pressure to prove yourself as a solo artist on Nine Track Mind?
No. You would think it would, but I feel so ready for people to hear records that just have my voice on it. I'm happy to collaborate with any brilliant artist there is, but every single song on this album was recorded in my bedroom, no fancy studio equipment or anything. I worked will brilliant songwriters and producers whom I never thought I'd work with in a million years, and I just want people to hear it and be inspired to think that they can do the same thing that I did in one year, because it's completely possible. I don't want anyone to think I'm this inaccessible pop star, like, unreachable. I want people to look at me and think I can do the same thing that Charlie Puth did, in his bedroom. Well, in their bedroom.
So what should listeners expect on the album?
They should expect a soulful vibe. It was mixed by Manny Marroquin [Grammy-winning engineer who's worked with Kanye West, Alicia Keys, etc.], another person I never thought I'd work with, so everything sounds super-clean. Every record that I wrote was written for a purpose of what I was feeling at that moment. My label [Atlantic], they were saying that I have one more day to finish the record, and I needed one more song, and I was losing my mind. And it hit me: "I have so much to do and not enough time, I have so much to lose, I'm losing my mind." That became the song ["Losing My Mind"] and they loved it. No record was made or given to me, like, "Give this good-looking little boy a song to sing." So they can expect realness. There's also 12 tracks, not 9 tracks, but 9 sounds better for a title.
Do you intend to seesaw between producer and artist for as long as you can, or at one point do you think you're going to have to pick one?
I've been told in the past by managers who are kicking themselves in the face because they didn't get a chance to manage me that it's not possible to produce 50 percent and be an artist 50 percent, but that's probably the reason why they're not managing me. So, I want to prove — I don't want to prove anything to anybody. I just want to show that it can be done, because they're both my passions — so why not do both?