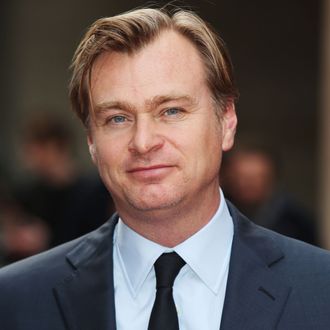 The talented Mr. Nolan.
Photo: Tim P. Whitby/Getty Images
Christopher Nolan's super-secret new movie just got a little less secret: As first reported by French newspaper La Voix du Norde, and confirmed by THR, the director's next film will be a WWII drama called Dunkirk, about the 1940 evacuation in which 200,000 British troops (and a few French troops) were rescued from Nazi armies by an impromptu flotilla of warships, merchant ships, and fishing boats. Despite Winston Churchill's warning that "wars are not won by evacuations," Dunkirk has remained a symbol of English resolve in the popular imagination, and the evacuation has been the subject of numerous patriotic war films in Britain (and, in a grimmer outlook, that long take in Atonement). Alongside his brother Jonathan, Nolan has reportedly visited northern France to scout locations for the film, which will shoot next summer ahead of its 2017 release. Tom Hardy and Kenneth Branagh are reportedly in talks to join the cast, with Nolan said to be looking for unknown actors for the leads. Either way, you should start buying futures in Earl Grey right now.