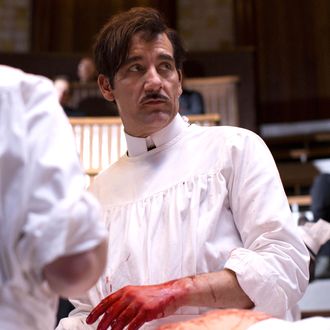 Clearly what this patient needs is more cocaine.
Photo: Cinemax
Warning: This post discusses the events of last night's episode of The Knick, so tread carefully.
Variety reports that Cinemax has ordered a premiere script and season outline for the third season of its early-20th-century hospital drama The Knick, which may come as a surprise to some viewers as last night's episode ended with the death of series lead Doctor Thackery (Clive Owen). Variety's report, however, doesn't imply that Cinemax is going to mimic any of that Jon Snow business. Owen told Variety that he only planned to do two seasons of the show, so Thackery will probably stay dead. And while the series itself was initially built for a two-year arc, according to a statement from Cinemax, all-star director Steven Soderbergh and creators Michael Begler and Jack Amiel have been discussing ways to continue the story.
In an interview with The Hollywood Reporter, Amiel went into more detail on The Knick's possible future. "It seems that way, doesn't it?" the co-showrunner said in response to a question about whether Thackery is really dead. But Amiel was more forthcoming about a possible, Clive Owen–less future. "There's a lot of ways to do this, absolutely," he said. "Steven [Soderbergh] always says the hospital show is the most durable format in television and that's true." It might be hard for a low-rated show on a minor network to continue without its star, but now could be the time for that Algernon spinoff we all want.