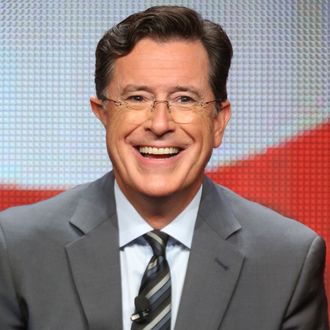 Colbert.
Photo: Frederick M. Brown/Getty Images
Viewers might still be mourning the loss of The Colbert Report and Stephen Colbert's beloved caricature persona, but do you know who's not? Colbert. In an interview with John Dickerson on Face the Nation (set to air on Sunday), when asked about his keen sense of where the country is today, the comedian turned the question around to reflect on his tenure on the late-night Comedy Central show.
"That's one of the reasons I stopped the old show," Colbert said. "I think people don't really want constant divisiveness. I really don't think they want that. And that's where I was aping. And I thought, Ah, I can't really drink that cup anymore. 'Cause I don't think people really want to hear it."
Colbert mentions that one current prime example of divisiveness in America is Republican presidential candidate Donald Trump, whom he finds "very appealing" in terms of his populism. "The party elders would like him to go away, but the people have decided that he is not going to," he said. "I may disagree with anything that he's saying, and think that his proposals are a little … well, more than a little shocking. But there is something really hopeful about the fact that, well, 36 percent of the likely voters want him, so the people in the machine don't get to say otherwise. That's the one saving grace, I think, of his candidacy."
"It might be emotional appeals that I can't respect, but he knows that you have to appeal to the voter," Colbert continued. "And that's why, I may be wrong — I made a big deal about there's no way he's gonna win. But, again, I don't know anything about politics." We beg to differ, sir.