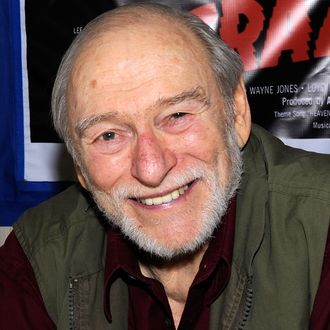 Photo: Bobby Bank/Getty Images
Actor Will MacMillan, known for his role as David in George A. Romero's 1973 cult favorite, The Crazies, has died at 71, his family announced Thursday. MacMillan appeared in a streak of films from the '70s through the '90s, including Robert Zemeckis's Used Cars (1980), Oliver Stone's Salvador (1986), and across from Clint Eastwood in The Enforcer (1976).  He played Boris Roskov in the early years of General Hospital (credited as William MacMillan) and later put in guest appearances on The West Wing, Matlock, NYPD Blue, Three's Company, and several other TV shows. MacMillan was also a stage actor, performing in productions of Brigadoon, 1776, and Pippin, and the artistic director of Psychic Repertory Theatre, which toured America to put on shows for children with special needs from 1976 to 1990.
Born in Steubenville, Ohio, on November 25, 1944, MacMillan grew up playing for his high-school football team. He later received a BA from Washington & Jefferson College and an MFA from Boston University. He recently won the Sierra Silver award at the Yosemite Film Festival for The Gift, a short film he directed. His last project, Destiny Trail, an independent film which MacMillan directed, was written and produced by his daughter and co-star, Natalie. His wife, Laura, and their son, Jonathan, served as co-producers along with MacMillan himself. He is survived by Laura, Natalie, Jonathan, and his two other daughters, Brittany and Grace.