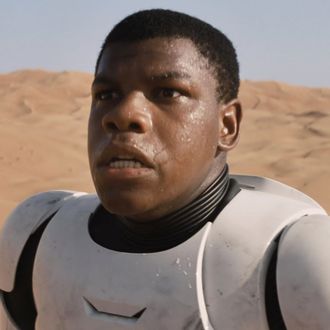 The force is strong.
Photo: Lucasfilm
Last week the Critics' Choice Awards announced its nominations for this year's best in film, but that was before every critic got to see the new Star Wars. Now that they've all had the Force awakened in them, they've retroactively squeezed in the film for the night's biggest category: The Force Awakens has now been nominated for Best Picture, making it the 11th film up for the award. The last-minute decision comes from a special vote held by the Broadcast Film Critics Association's board of directors on Monday, after they received "an unprecedented outcry" from members who said they would've voted for the film had they been able to screen it before nominations were due. (They gave the same nomination late pass to Cast Away in 2000.) The Force Awakens will reportedly not be considered for any other categories. So, here's an updated list of the Best Picture noms:
The Big Short
Bridge of Spies
Brooklyn
Carol
Mad Max: Fury Road
The Martian
The Revenant
Room
Sicario
Spotlight
Star Wars: The Force Awakens
The awards will air on January 17.