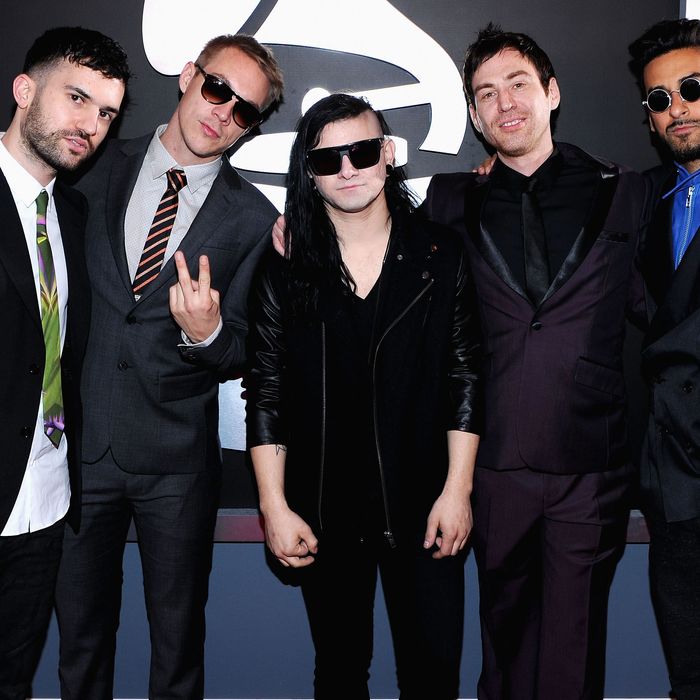 A-Trak, Skrillex, Diplo, Photek, and Armand Van Helden (from left) at the Grammys in 2012.
Photo: Larry Busacca/Getty Images
Considering how many dance crazes have figured into pop since the Grammys' founding in 1959, to say nothing of before then — the foxtrot popularized ragtime, the Lindy hop kicked off the swing era — you might think it would take less than four decades for the awards show to offer a dance-music category. But aside from 1980, when the one-and-done award for Best Disco Recording went to Gloria Gaynor's "I Will Survive" (instead of Michael Jackson's "Don't Stop 'Till You Get Enough," the category's best nominee by far), it took until 1998 for the Grammys to recognize a Best Dance Recording. The winners since then have been, to say the least, safe yet puzzling — the Grammys special, if there ever was one.
Back in '98, the inaugural dance award went to disco legends Donna Summer and Giorgio Moroder, who reteamed for "Carry On," a likable track that is not now nor ever will be the reason anybody remembers either of them. The best nominee, by a country mile, was Daft Punk's "Da Funk." It never fails: a new Grammy category, a new Grammy tradition of a consistently fractured relationship between the hard-line gentility of its choices and those that history makes. It's not exactly tension; the Grammys are the music world's version of well-meaning but ultimately clueless uncles and aunts at Christmas. Every few years, they'll actually line up with the public and the cognoscenti, as well as their hidebound selves.
Best Dance Recording was clearly a goodwill gesture to the late-'90s industry push behind "electronica," an earlier generation's version of EDM (and one precisely as time-bound as "EDM" already sounds). Along with "Carry On" and "Da Funk," the other 1998 nominees included a lame Pet Shop Boys album cut ("To Step Aside"), the lousy follow-up to a Miami bass classic (Quad City DJ's' "Summer Jam"), and a Eurovision nominee that'll give a person hives (Gina G's "Ooh Aah … Just a Little Bit"). Any sense that Best Dance Recording was to showcase what labels like Astralwerks, let alone Warp, were doing flew out the window with the cage attached.
Well, sure, you might reasonably think: "dance" is a wide tent, right? And it is: Dance-pop of one form or another has been part of the radio since disco, and bodies move regularly and rhythmically to plenty of non-"dance" music. But the term "dance music" indicates a specific milieu — producers who intended their music to be heard in clubs before, if ever, they take it to radio. By and large, that's not what the Grammys delivered, as nominees or as winners, for quite a long time. In fact, it took until 2003 for a "proper" dance record (a term embedded in the culture, and hopefully not too nebbish) to nab Best Dance Recording: Dirty Vegas's "Days Go By." The British house trio recorded for Capitol, which helped. So did the fact that "Days Go By" was used in a Mitsubishi commercial. Ad work — now that the Grammys understand.
Between "Carry On" (as in "Carry on being the Grammys") and "Days Go By," the pattern of the first year repeated: Only one proper dance record per year was nominated. The standard was quickly clear: Dance Recording was another category for established pop stars to win: Madonna ("Ray of Light," 1999), Cher ("Believe," 2000), Janet Jackson ("All for You," 2002), Kylie Minogue ("Come Into My World," 2004), Britney Spears ("Toxic," 2005), Justin Timberlake ("SexyBack" and "LoveStoned/I Think She Knows," 2007 and 2008). Some of these are great records, but none are really dance records in the way of such other nominees, be it Daft Punk's "Around the World" and "One More Time" (1999 and 2002, respectively), Fatboy Slim's "Praise You" (2000), or Justice's "D.A.N.C.E." (2008).
Instead, the dance lifers found solace in Best Dance/Electronic Album, instituted in 2005 and deservedly awarded to Basement Jaxx's Kish Kash in its inaugural year. The Chemical Brothers would go on to win the award twice (as well as nabbing Dance Recording for the Q-Tip feature "Galvanize" in 2006), while the Academy has had enough sense to limit the number of pop winners to just three (Madonna's Confessions on a Dance Floor in 2007, Lady Gaga's The Fame in 2010, and La Roux's self-titled in 2011). It's frankly unfair to count these pop offerings as not dance music, as well as to expect that the electorate would be aware of the movements and shakings of a musical world that operates almost entirely after most of them have gone to bed. But just like punk and new wave are rock music while also being something else, so it is with the post-house and techno diaspora. Maybe it's the word "electronic" in Dance/Electronic Album dog-whistling in the voters' ears, but that diaspora has made up the bulk of the category's nominees as well as winners.
Though the lifers who still mail-order actual 12-inches from Hard Wax will bitch otherwise, the same has generally been true for Best Dance Recording since 2009, when the Grammys have largely gone to dance acts: Chems, Daft Punk (the live "Harder, Better, Faster, Stronger" in 2009), Skrillex ("Scary Monsters and Nice Sprites" in 2012 and "Bangarang" in 2013), and Zedd ("Clarity" in 2014). And while Rihanna's "Only Girl (In the World)," the 2011 victor, may seem like an outlier (it wasn't produced by an embedded dance-world figure like Calvin Harris, either), it's still got those swooping rave build-ups that signify post-house rather than post-disco.
This year's nominees rest comfortably in the Grammys' recent dance-category range: Mostly mainstream dance music and EDM (yes, they're different things — if "EDM" is what you'd call 2015's album winner Aphex Twin, then Led Zeppelin was "new wave") with a poppier outlier or two. As ever, those outliers are telling. There's no point rehashing the sordid tale of industry mole Al Walser schmoozing his way into a 2013 nomination for "I Can't Live Without You," a record literally unknown outside of the Grammy committee before the nominations were announced. Last year's winner, Clean Bandit feat. Jess Glynne's "Rather Be," is "electronic" by dint of instrumentation, but it's not really a dance track at all — rather, a YouTube hit no doubt reassuring to the voting body's taste for songcraft and novelty alike.
This year? There's not a lot to argue with, at least in category terms — both sets of nominees fit, in some manner, into "dance music," even indie front man Jamie xx, whose overrated In Colour competes with Caribou, the Chems, Disclosure, and Skrillex and Diplo Present Jack Ü. It's an easy guess that the latter project will nab both prizes: Their song category nominee is the Justin Bieber comeback trailer "Where Are Ü Now," against which none of the other noms have a passing chance, even if the Biebs has been snubbed by the Grammys in the past. (The only competitor that comes close is Flying Lotus's "Never Catch Me," also by dint of a year-conquering guest star, Kendrick Lamar.)
Dance/Electronic Album, though, isn't altogether a sure thing. Yes, the Grammys love a familiar name, and Skrillex — who's won six awards — and Diplo — nominated for Record of the Year in 2009, for producing M.I.A.'s "Paper Planes," and for Producer of the Year in 2013 — are as familiar as it gets in this arena. Then again, the Chemical Brothers are awfully familiar, too — and having the rock cred, however nebulously "rock," also helps (like in Jamie xx's case). But it's equally true that with the Grammy Awards, you simply never fucking know — just like them, much of the time.