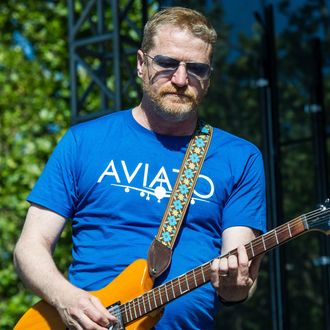 Camper Van Beethoven front man David Lowery, a vocal opponent of streaming services, filed a class-action lawsuit against Spotify on Monday requesting $150 million in damages over unpaid royalties. According to Billboard, Lowery has accused Spotify of "knowingly, willingly, and unlawfully" reproducing and distributing copyrighted music to over 75 million users without obtaining the proper licensing. The suit claims the company failed to identify or locate the owners for payment and showed no signs or intentions of doing so.
Songs mentioned in the complaint include "Almond Grove," "Get On Down the Road," "King of Bakersfield," and "Tonight I Cross the Border." In addition to Lowery, the class proposed will include over 100 artists whose music Spotify has reproduced illegally, with Lowery acting as the representative during litigation. The suit also requests the court have Spotify remove the songs in question from its database, pay for an outside auditor to identify each owner, and then obtain the proper mechanical licenses before the songs are added back to the database.
Following the news, Spotify released a statement from Jonathan Prince, the former Washington insider who is now the company's global head of communications. It reads: "We are committed to paying songwriters and publishers every penny. Unfortunately, especially in the United States, the data necessary to confirm the appropriate rightsholders is often missing, wrong, or incomplete. When rightsholders are not immediately clear, we set aside the royalties we owe until we are able to confirm their identities. We are working closely with the National Music Publishers Association to find the best way to correctly pay the royalties we have set aside and we are investing in the resources and technical expertise to build a comprehensive publishing administration system to solve this problem for good."
Lowery, crooner behind the song "Take the Skinheads Bowling," has never been a big fan of Spotify. In his now-infamous missive to NPR intern Emily White, he wrote, "while something like Spotify may be the solution for how to compensate artists fairly in the future, it is not a fair system now." That was back in 2012, and little has changed regarding the royalty conundrum, but perhaps this new suit will speed things along.