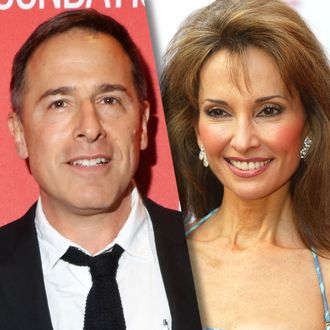 David and his diva.
Photo: Getty Images
Virginia Madsen plays Jennifer Lawrence's soap-opera-obsessed mother in David O. Russell's latest film, Joy. But rather than include clips from a pre-existing daytime soap, Russell shot original scenes with soap veterans Susan Lucci (Erica Kane on All My Children), Maurice Bernard (Sonny Corinthos on General Hospital), Laura Wright (Carly Corinthos on General Hospital), and Donna Mills (Abby Ewing on Knots Landing). After working with these actors, Russell praised them in this week's THR directors roundtable, calling them "professional athletes."
I'd go, "Donna Mills! Susan Lucci! Let's have a catfight." They don't go, "Oh wait, what's my motivation?" They just go, bang! I was blown away by the power of these women actors.
Fellow roundtable participant Quentin Tarantino said, "That might be one of the most interesting things said at the table. The power of soap opera actors. That actually is a nugget, and I buy it 100 percent."
And he's not wrong. Soap-opera actors shoot multiple scripts in one day, and with the decrease in budgets since the heyday of the genre (the '80s and '90s), there's not often time for reshoots. You must know your lines, be on your mark, and be ready to shoot. There's no time for Method acting or arguing with a director. It's the sort of professional athleticism that Alfred Hitchcock greatly admired in actors. In 1962, during a series of interviews with François Truffaut, Hitchcock famously referred to actors as cattle. For example, during the shooting of I Confess, Hitchcock didn't get along with Montgomery Clift. According to Patricia Bosworth's Montgomery Clift: A Biography, Hitchock would tell Clift exactly how he wanted him to behave in scenes. Clift balked at the demands and would act how he wanted in other takes, but Hitchcock would ultimately use the takes where Clift followed his instructions. It shouldn't come as surprise that a number of the actors Hitchock worked with — including Farley Granger, John Forsythe, and Macdonald Carey — went on to act in soaps.
Russell, who has been known to battle with his own actors on set, is probably just embracing his inner Hitchcock. He even has Lawrence as his icy blonde. And really, is it any surprise that a director who loves a good screaming match and casting Lawrence older than she actually is in every film would love a good Erica Kane soap-opera catfight?