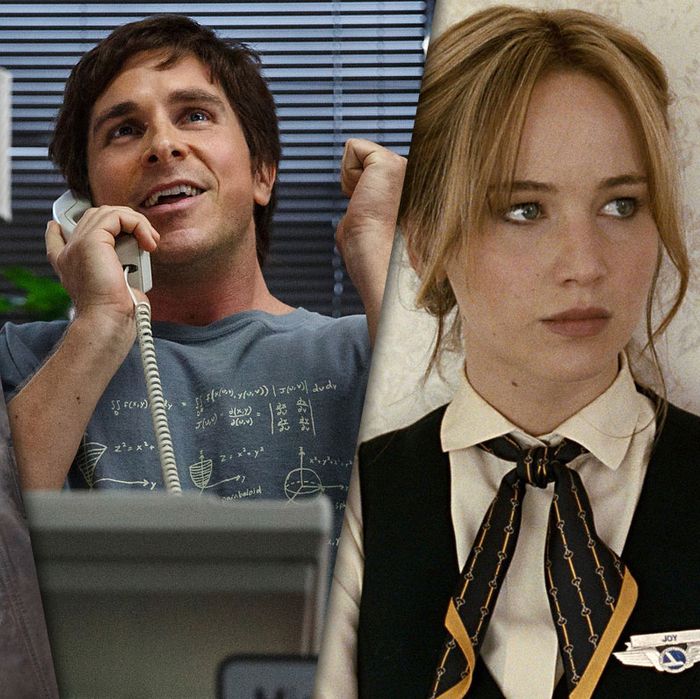 Photo: Lucasfilm, Paramount Pictures, Twentieth Century Fox
Hello, and welcome to This Month in Movies. We are standing in the mud of history. The last 31 days have not just been any month in movies; they've been ground zero for the relaunch of one of the few truly monocultural concepts in entertainment, one of the last properties left that most people you meet will understand and appreciate, that spans generations and nationalities, that can dominate an entire media cycle. But that's enough about Alvin and the Chipmunks: The Road Chip. Let's talk about Star Wars.
THE FORCE IS WOKE
December of 2015 will forever be known as the month of The Force Awakens. J.J. Abrams's Star Wars reboot opened to an astonishing $247.9 million domestically and $528.9 million internationally, annihilating Jurassic World's previous records and leading the biggest weekend in box-office history. And since then, it's kept on humming: It made $153.5 million over Christmas weekend, making that the second-biggest weekend in box-office history, and crossed $1 billion internationally in only 12 days, the fastest that mark has ever been reached.
It's hard to express the kind of business Star Wars is doing without using those money-tongue emoji. Here are all of the records it holds, most of which it took from either Jurassic World or Avatar; the records still belonging to Avatar are mostly ones Star Wars hasn't been out long enough to take yet. Meanwhile, China waits, and while that major market has far less familiarity with Star Wars than the rest of the world does, Disney has been unleashing all the marketing might of the Mouse to make sure it lands firmly.
Meanwhile, the critical reception to The Force Awakens has been overwhelmingly positive: Rotten Tomatoes counts only 20 negative reviews versus 293 positive ones. This is a measure not only of the effectiveness of the J.J. Abrams approach to reviving properties, but also a measure of the enormous goodwill the culture bears toward Star Wars, which is notable for its ubiquity as well as its intensity. No more valuable property exists in the world, and believe you me: Disney will milk that intergalactic cow until "a long time ago, in a galaxy far, far away" is as familiar as Tony Stark's suit.
That process begins with next year's Rogue One, slated for next December, which director Gareth Edwards, best known for helming Godzilla, says will be more like a war movie than any Star Wars yet. Because it puts "Star Wars" after the colon instead of before, it's hard to know exactly what to expect from Rogue One — will audiences see it as a bona fide Star Wars movie? — but based on the Force Awakens' bonkers productivity and the success of subsidiary Marvel properties like Iron Man and Captain America, it should be just fine. After that, Rian Johnson will deliver a potentially stranger Episode VIII in 2017, this time in May; expect money to rain down from the sky like flower petals in a martial-arts movie.
THE GOOD:
1. Will Ferrell is still a (specific kind of) star.
Believe it or not — I mean, you should believe it because it's a provable fact, but I guess I have to leave it up to you; there are people who don't believe in vaccines — Daddy's Home was the box-office runner-up in December. I don't think many people feel any particular type of way about the film itself, which has 87 different credited screenwriters and was directed by a utility-type comedy veteran, but its surprising success is another point on the scoreboard for Will Ferrell, one of the most reliable stars in the game right now.
There is a clear formula when it comes to Ferrell: Pair him with another star or well-known comedian and let the money roll in, regardless of how the film turns out. Since 2006's Talladega Nights: The Ballad of Ricky Bobby, in which he partnered up with John C. Reilly, the run of two-handers he's led to gold has yet to end: Blades of Glory with Jon Heder in 2007; Step Brothers with Reilly again in 2008; The Other Guys with Daddy's Home co-star Mark Wahlberg in 2010; The Campaign with Zach Galifianakis in 2012; and Get Hard with Kevin Hart in 2015. None of those movies made less than $85 million, solid numbers for a comedy, and most of them topped the century mark.
Now, take Ferrell away from the binary approach, and things get more complicated: There are high highs (Anchorman and Anchorman 2, which, to be fair, feature a bunch of other famous actors) and low lows (Land of the Lost). It's much safer to put someone else on the poster with him, but provided that person is even remotely familiar, you're looking at a guaranteed success, more or less.
2. Krampus proves that you can make a horror movie about literally anything.
Horror has been one of the most reliable low-budget moneymakers in film since The Blair Witch Project turned extreme close-ups into cash back in 1999. But this month's Krampus, which has grossed $41 million on a budget of only $15 million to date, also proves you can make horror out of pretty much any concept that involves emotionally vulnerable people gathered together in an enclosed space, even Christmas!
3. Adam McKay is a serious filmmaker now.
The Big Short, Adam McKay's send-up of the financial crisis, has opened to strong returns both in limited and wide release. But more important, the wonky, unconventional comedy with an unhappy ending is a hit with critics and the awards circuit, which should give the film the boost it needs to go from "intimidating adaptation of a book about finance" to "the must-see portrayal of an economic meltdown that you don't understand as well as you should." My colleague Kyle Buchanan considers it one of only two locks for Best Picture, which is even weirder than it sounds at first: Paramount didn't even have The Big Short originally slated to go this winter.
A few parts of The Big Short's success come as no surprise: Brad Pitt, Ryan Gosling, Steve Carell, and Christian Bale are A-list actors, and here they give A-list performances. But Adam McKay, the writer-director of Anchorman, Step Brothers, and a handful of other comedy classics from the last decade, had never made a movie that could be considered even remotely prestige material before. With the success of The Big Short, he instantly vaults into the ranks of Serious Directors, and it's very likely that he'll have carte blanche to point his new fusion of hyperstylized humor and righteous indignation at any subject he so chooses.
4. Film's back, baby — or at least it was for a weekend.
Quentin Tarantino shot his new movie, The Hateful Eight, on 70mm film, and then ensured a roadshow — a now out-of-fashion method for rolling out major releases — that included 100 theaters equipped with the appropriate projection. Surprisingly enough, his bold bet paid off, with The Hateful Eight delivering one of the more impressive limited performances of any release this year. From a piece I wrote about it earlier this week:
This gamble was rewarded with a $4.5 million take, which, spread across those 100 theaters, meant an astonishing $45,366 per-theater average, according to Box Office Mojo. This would be a solid average for a much more typical limited release, the kind that launches in a handful of theaters in L.A. and New York; for example, it's what The Danish Girl did in four theaters, and it's $8,000 more than what Brooklyn did in five. In terms of blockbusters, it's even with Avengers: Age of Ultron, which opened on 4,276 theaters. But the big difference between Hateful and other releases is that, because of the 70mm restriction and the three-hour run time, it could only be shown a certain number of times per day on a single screen. Had it had the flexibility of a digital release, it would've made a hell of a lot more.
THE BAD
1. Pity poor Warner Bros.
You probably did not look In the Heart of the Sea. The expensive team-up between Chris Hemsworth and Ron Howard, which focused on the true story that inspired Herman Melville's Moby-Dick, bombed hard at the box office, opening to only $11 million domestically against a budget of at least $100 million. While it did fare better overseas, the movie is one of those releases this year that you couldn't help but have a bad feeling about, whether because of terrible advance buzz (Pan), an insane concept (Jupiter Ascending), an irrelevant property (The Man From U.N.C.L.E.), or a bland overall vibe, as was the case here.
Those four movies have one other thing in common: They were all released by Warner Bros., which had a real bummer of a year. Even before In the Heart of the Sea bombed, the studio was eager for 2015 to end: Its top grossers, San Andreas and Mad Max: Fury Road, rank only at Nos. 19 and 20 overall domestically, and the success of Creed and Get Hard aren't enough to rival the outstanding production of movies like Jurassic World and Furious 7 (Universal), or The Force Awakens and Avengers: Age of Ultron (Disney).
2. Even David O. Russell can't win them all.
David O. Russell's been on a nice run. He released three straight Best Picture–nominated films that all also secured him a nod for Best Director, and the last two, Silver Linings Playbook and American Hustle, also popped off at the box office. But all streaks have to end, and Russell's ends with Joy, his divisively reviewed new pseudo-biopic starring his muse, Jennifer Lawrence. While Joy isn't a complete flop, with a $17 million opening-weekend take — that's as much as Steve Jobs made in its entire run — it could still struggle to make back its $60 million production budget, particularly if it misses out on what would be a fourth-straight Best Picture nomination for Russell, who's already a non-factor in this year's Best Director race.
3. There was seriously no better title than Concussion?
So, you're thinking about hitting up a movie on Christmas. Maybe you've got your kids in tow, or your girlfriend or boyfriend. It's a holiday: You're in a good mood, or maybe you're looking for relief from the pressures of said holiday. What's the chance that you seek out a movie called Concussion? Pretty low, right? Right: The new Will Smith vehicle, which takes on the very in media res real-life story of head trauma in the NFL, took in $10.5 million at the box office over the holiday weekend, which, spread across 2,841 theaters, makes for only a $3,696 average.
Admirable as its aims might be, Concussion fell victim to its incredibly on-the-nose title and the general confusion of making a non-documentary film about a current event that's very much ongoing. Like Joy, that opening isn't a disaster, but the movie did cost $35 million; for it to break even, it'll likely need Best Picture and Best Actor accolades. The former is highly unlikely, and for the latter, Smith — who has, to his credit, received very strong critical notices for his performances — will have to beat out a formidable field of competitors for the four slots that aren't occupied by almost-certain winner Leonardo DiCaprio.
4. Chi-Raq has some work to do.
Spike Lee's new joint is the first offering from Amazon Studios' film division, which will try to replicate the success the company has been having with scripted television. Released in 305 theaters on the first weekend of December, Chi-Raq brought in a little over a million bucks, amounting to a $3,929 per-theater average. For comparison, see the success of Lee's rival Quentin Tarantino, explained above.
Budgeted at $15 million, it looks like Chi-Raq's take will stay around $2.5 million. That is … not great! But it's also interesting to consider in light of what happened with Beasts of No Nation, Netflix's first foray into original filmmaking. Unlike with Beasts, which was available for streaming on Netflix the day it hit theaters, Chi-Raq won't land on Amazon Prime until February 4, and it'll become available for VOD rental — or at least on iTunes — January 26. Beasts famously bombed during its small theatrical run, but Netflix claimed that it was a runaway hit on the service. Amazon, meanwhile, has chosen to take the more conventional route in releasing its films, leaving far more proof in the pudding — Netflix can argue that Beasts' time in theaters was immaterial, but this is a much more substantial release. Certainly, Chi-Raq should still be an asset for Amazon as a streaming item. Less ambiguous is what this means for Lee: In only three months, it'll have been ten years since Lee released a movie that made more than $10 million at the box office.
AND THE UGLY
1. LOL, Point Break.
WHO ASKED FOR THIS?