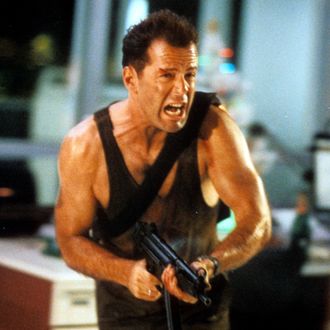 Bruce Willis shooting bad guys in the original Die Hard.
Photo: Twentieth Century Fox
Eric D. Wilkinson, aspiring screenwriter and fervid Die Hard fan, spent thousands of dollars to send an open letter to Bruce Willis in a full-page Hollywood Reporter ad last month, pitching his idea for a Die Hard sequel. No surprise, Wilkinson's idea for a Die Hard sequel isn't gonna happen; very surprisingly, he did get a deal to write a different movie. According to The Guardian:
Wilkinson and his writing partner Richard Schenkman have since agreed a deal with LA-based Eclectic Pictures, which has a first-look arrangement with Lerner's Millennium Films. The company has now optioned their high-concept screenplay The Devil, about the mythical flying creature said to have terrorised residents of southern New Jersey for centuries, for an unspecified sum.
Wilkinson commented, "Richard and I have developed many ideas together but this is one of my favourites. Forget what you think you know about the Jersey Devil — ours is bigger, badder and scarier than anything you could possibly imagine."
Dreams really can come true, if you have thousands of dollars to buy an advertisement in an industry-oriented magazine.