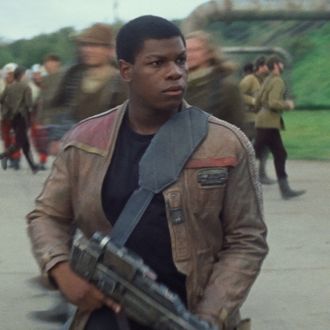 You'll be able to buy Poe's jacket, of course.
Photo: Lucasfilm
According to the Los Angeles Times, Disneyland is closing down part of its park to make room for Star Wars rides. The news comes after Disney had already retrofitted the capitalist hell that is Tomorrowland to include Star Wars themes by adding new decorations on Space Mountain and making the Star Tours ride Force Awakens–friendly. Still, there's always more Star Wars work to be done. In August, Disney Chief Executive Robert Iger said that Disneyland's renovations will include a Millennium Falcon ride that will go on a "customized secret mission," some sort of immersive "climactic battle between the First Order and the Resistance," and several other as-yet-unannounced attractions. Which means we have room to pitch! Since our invitations to become professional Disney imagineers clearly got lost in the mail, we'll just have to leave a few of our Star Wars–land ideas here:
The Force Awakens nap center, where kindly attendants whisper explanations for the movie's plot holes as you sleep.
A "Greedo" ride where Han shoots you. First.
We're not sure how you organize this, but at the same time every day, one park employee should walk up to a random patron and announce "I am your father" with the utmost conviction, regardless of the employee's gender, the age difference between patron and employee, or the enthusiasm of the patron.
Kylo Ren children's counseling service.
Padmé Amidala memorial hair-care center.
J.J. Abrams rose-colored glasses stand.
Stormtrooper marksmanship range: You get more points for missing the target!
Fan theory roller coaster: It collapses easily, but it's really fun!
A store called "Not the Droids You're Looking For" where nobody can buy anything no matter how hard they try and everyone's shouting and nothing makes sense.
A ride where you just gaze at Oscar Isaac's face for a few minutes.
A ride where you hang out and talk to Lupita Nyong'o about fashion.
A Dagobah-themed swamp area that gives everyone hallucinations that convince them they're chosen to save the Galaxy. (Note: People might need to sign a waiver for this.)
George Lucas–themed pool of gold coins.
A BB-8 Zorb Ball course.
BB-8 ice-cream stand.
BB-8 store.
BB-8!!!!
A gravestone that reads "Jar Jar Binks."
Thank you for your time, Mr. Iger, please respond to our pitches at your earliest convenience.